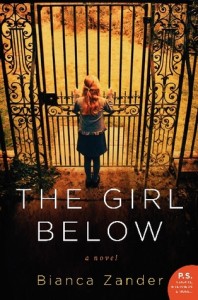 Fans of magical realism enjoy literary scenes that don't make much logical sense, and they are able to suspend their disbelief as reality blends with the fantastical. Though it may start out as a typical contemporary novel, Bianca Zander's The Girl Below takes an odd turn not too far in. Readers may find themselves wondering if it's morphing into a ghost story, a time traveling tale, or if a mental illness diagnosis will be forthcoming.
Or perhaps that was just my reaction. When the protagonist Suki begins to have memories of odd childhood occurrences, I accepted them at face value, for childhood memories can often be murky and hard to explain. A couple time periods of Suki's life are the focus of the storytelling– the present day (in 2003) in which Suki is without either a job or a place to live, about twelve years earlier when Suki's life crumbled upon her the death of her mother, and all the way back to 1981 on the fateful night of a wild party held at her childhood home and thrown by her parents. The significance of events on that night in 1981 have reaching effects on Suki's life at all of these points, but the mystery isn't revealed all at once.
In all honesty, Suki is not that likeable of a character, which may affect readers' experiences to varying degrees. She's clearly immature for her age, and even as an adult, she's floundering in ways that are more typical of adolescence. It could be argued that she is suspended in late childhood as a result of childhood trauma, but again, that's a very realistic take on a story that dips again and again into magical realism. I'm willing to bet that readers will leave this novel with different conclusions on the events and their meanings.
I wasn't prepared for the magical realism bend in The Girl Below, so I was confused a bit with the first bits of bizarre time-bending action and kept waiting for the character to be diagnosed with schizophrenia or a related mental illness. In hindsight, reading the interview with the author at the end of the book helped put things into the right perspective to understand the novel better. The protagonist is extremely flawed, to the point where some might be completely turned off because she can be so unlikable, but even though I understand where that criticism comes from, I found myself still rooting for her to grow and change through the whole book. The ending definitely isn't neat and clean, but I did find some hope there, leaving me with a positive feeling.
Other novels with elements of magical realism:
Novels that make Dawn have to figure out a mystery provide a nice distraction from the everyday puzzles of who left the milk out, who drew on the carpet, and why in the world there is soap all over the bathroom mirror. Her life's mysteries are chronicled on her blog, my thoughts exactly.