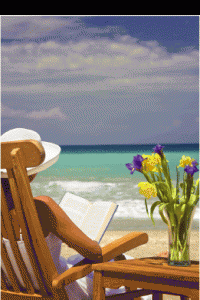 Years ago when I was hearing how great The Kite Runner was,it made me want to read it, but I knew it was heavy, and so though I thought I'd enjoy it, I could never quite gear up to read it. I tucked it into my beach bag when packing for our family trip to Cape Cod, knowing I always get some good reading in on vacation.
Not exactly the textbook definition of a beach read is it?
But in a way, it was. See — The Kite Runner is the kind of book that sucks you in and demands the reader's full attention. And when I'm on vacation (whether at the beach or lake or on a road trip), I have the kind of time and mental focus to do just that.
This month, I encountered another book that I could not have read in the same way if I wasn't at home with a lazy summer schedule. I read Gone Girl in two days, in about 3 sittings. I tuned out the world around me as was drawn in to the story and absolutely had to know what would happen next.
But in a review last month, I also called Paris in Love the "perfect summer read" for the completely opposite reason. It was light and easy to put down (but good enough that I wanted to pick it back up again), which meant I was entertained but didn't have to think too much.
In Nancy's review of Ocean Beach, she mentioned her criteria for the perfect beach read, which includes a beach setting. She asked readers to share in the comment section their idea of a perfect beach read, and they vary.
So, I won't ask you that question (feel free to weigh in over there, and you can also enter to win two beach books), but I do want you to leave a comment answering this one:
Is there a book that you read one summer that still is linked in your mind as a memorable summer read like The Kite Runner is for me? Why?
Jennifer Donovan always enjoys vacation for the togetherness without distraction that her family always finds. She blogs at Snapshot.