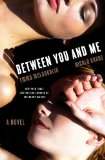 I have a confession to make—I fail at pop culture. My current excuse is that I was gone for most of the noughties (seriously, what do you call the decade between 2000 and 2010? I heard a Brit once call it the noughties, after their zero which they call nought, and I loved it best.) It's a good excuse—we lived in a city in the Sahara with only sporadic internet. My excuse for the 90s is that I had a million small children in a very short time (ok, 3 kids in 20 months).
Even I, ignorant as I am, can figure out that Between You and Me
heavily references the events of Britney Spears' life, although I'm sure you would catch more allusions than I did. One thing I wasn't expecting was the enormous amount of compassion I would feel for the protagonist of this novel. Emma McLaughlin and Nicola Kraus, authors of The Nanny Diaries
, turn their keen wit and understanding on the world of celebrity, and the price that must be paid for fame and fortune.
Logan Wade is living in New York, working a dead-end job, spending her birthday waiting hopelessly for the love of her life to arrive, when she gets a call from her estranged cousin, Kelsey (ok technically from another cousin, but I'm trying to condense a bit here). Kelsey and she were close as children—more like sisters than cousins—but then something happened, an event that is unclear in Logan's mind, and the two families parted ways. Kelsey and her mother, Michelle, moved to California, where Kelsey first got work on a Disney show and then became an enormous international pop star. Logan flies out for a week's vacation, and she and Kelsey reconnect—tentatively at first, but eventually they open up a bit more. Kelsey asks Logan to become her assistant, and she agrees.
What follows is a behind-the-scenes look at a both a European tour for a mega-hit popstar and a look at a dysfunctional family. Kelsey's parents drive her; they are her managers, and they keep her schedule full to the brim, allowing no down-time. In many ways, they have kept her in a sort of limbo. Although she is now in her 20s, she remains a teen in some important aspects. It's painful to watch her try to gain control of her life, ending up acting out and losing her husband and daughter, being placed under her parents' control even more firmly. Yet Between You and Me
is also a funny book, written from Logan's point of view and showing a lot of the humour inherent in everyday life.
Between You and Me
is a great summer read—deep enough to satisfy, light enough to read by the pool (assuming you're lucky enough to live somewhere near a pool and where it's not raining).
Elizabeth is doing her best to catch up on pop culture, and she's pleased to tell you that thanks to having 3 teens, she's doing much better. Learn more at her blog Planet Nomad.