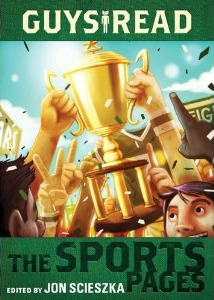 Whether it's as a member of a team or as a solo effort instead, athletes' experiences often make for exciting and intense stories. With Guys Read: The Sports Pages, editor Jon Scieszka has gathered together ten such stories from middle grade authors and a few athletes themselves. Intended for readers ages 9 to 12, this collection will bring laughter and maybe even some inspiration.
To read more of my thoughts, click over to my review of The Sports Pages at 5 Minutes for Mom. I predict that I won't be the only one talking about a particular short story in this mix, "I Will Destroy You, Derek Jeter," a wild and hilarious tale of one boy's grudge against the Yankee favorite. Even though I'm not the target audience, I found myself grabbing this book every time I had a few minutes to sit down and read.
Be sure to leave a comment over at the full review to win a copy of the book for a young reader in your life. (Or for yourself! I happen to be a huge fan of middle grade fiction!)
Dawn hopes to spend much of her summer with a book in hand. She'll have to put it down occasionally to pay some attention to her long-lost blog, my thoughts exactly.