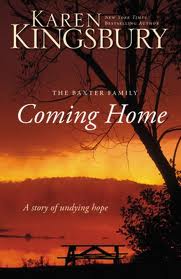 Coming Home by Karen Kingsbury is the final book centering on the Baxter family, which has been featured in twenty-two books spanning five different series.
As patriarch John Baxter approaches his seventieth birthday, plans are underway for a surprise party which will reunite all of his children and their families in his hometown of Bloomington, Indiana. Prior to their arrival, each of the children reflects on his or her life in the course of writing a special letter to be read to their dad during the celebration, which serves a dual purpose of introducing new readers to the clan while also giving longtime readers a reminder of who is whom.
On the day of the party, however, tragedy strikes, quickly turning the gathering from a time of rejoicing and laughter to a time of confusion and sorrow. Through the tragedy, we are shown how much strength and love the Baxter family really has for one another. And when more than one of them is called to their final home, they pull together to comfort and protect all of their members in the face of uncertainty regarding the future.
Woven in amongst this new story are the threads of how God has redeemed each one of them, and the difficulties they face now even serve to heal some lingering hurts.
In Coming Home, Kingsbury has given us a fitting end to a wonderful long-running saga. Whether you have read all of the Baxter stories, or none at all, all fans of Christian fiction will enjoy this tribute to the power of family love, and to the undying hope we have in Jesus.
Other Books You Might Enjoy
Although it's sad to see the end of a beloved series, Trish is looking forward to where Karen Kingsbury will take us next. Her books are always a pleasure to read. When Trish isn't reading, she is taking care of her son and blogging at In So Many Words.