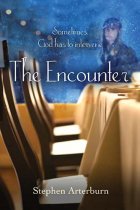 Acceptance. Forgiveness. Grace. These are profound topics deftly woven into this powerful short novel about a man searching for the truth. In The Encounter, teaching pastor Stephen Arterburn introduces us to the character of Jonathan Rush. Jonathan is a successful entrepreneur with a much less successful personal life, and he has come to Fairbanks, Alaska on the advice of his counselor. His task — to find out as much as he can about the mother who gave him up as a young boy.
As Jonathan begins his quest, he comes up against a local reporter who thinks he is in town to scout a new business location. They eventually team up (off the record) to unravel his personal mystery, following clues from the Kellner Children's Home to the Fellowship Baptist Church's Wednesday evening supper to a cabin in the woods, where they meet a woman named Mercy who seems to have some information about her former neighbor.
Jonathan's story alternates with that of Ada Rose Guthrie, another resident of Fairbanks, who makes a habit of reading the newspaper at the local diner and stealing any articles she finds about the "hometown boy made good" for her personal scrapbook. As Jonathan continues to dig for information, Ada reminisces about the events that brought her to where she is today.
I loved this book on many levels. The plot was engaging, the characters vivid, the narration tight, and the message right on target. Without being preachy or pedantic, Arterburn illustrates how our choices affect our lives, and that of others, and how we also have the choice to hold on to resentment towards those who have hurt us or to find healing through acceptance.
Trish thanks Booksneeze for a complimentary copy of this book and Pastor Arterburn for tackling such a difficult subject in a compassionate and redeeming way. Read more from Trish at In So Many Words.