Mercer Mayer's Little Critter Collection #1 from Oceanhouse Media contains 10 of the best loved Little Critter titles all in one app.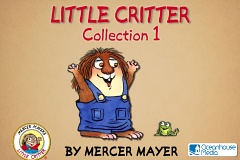 The app is part of Oceanhouse Media's OmBooks collection, so the navigation is nearly identical to the Dr. Seuss book apps by the same company that I reviewed earlier this year. Each title can be enjoyed using one of three settings- Read It to Myself (no narrator, must swipe pages), Read to Me (narrator, must swipe pages), and Auto Play (narrator, the story moves from page to page automatically).
If your child has mastered navigating one of the other OmBook collections, they will be able to jump right in to enjoying this app. If not, non-readers may need a little guidance at first until they get the hang of it.
Like the Dr. Seuss collection, the child can tap an unfamiliar word and have it read to them. He or she can also tap objects in the picture to hear the name of the object and see it written.
All of the books are read by a child narrator. On each page, subtle background sound effects add to the vividness of the story with the sounds of teeth being brushed for bed or frogs "ribbiting" in the bathtub (you'll have to read the story to find out about this one!) The beautiful illustrations are very detailed and full of the charm of Mercer Mayer's endearing "Critters."
Our favorite part of this app is the "Find the Critter" activity in each book. As you read through a story, the child looks for the mouse or spider hidden on the pages and taps them. At the end of the story, the screen tells how many of the total that you found. I think my daughter misses most of the storyline in her pursuit to find all of the hidden critters!
Ten beloved books from my own childhood in a tiny package make this app a winner.
The titles include:
All By Myself
Just Me and My Mom
I Just Forgot
The New Baby
Just For You
When I Get Bigger
Just Grandma and Me
Me Too!
The New Potty
I Was So Mad
Guest Contributor Sherry is married to the love of her life, and enjoys surrounding herself with books and cultivating her two young bookworms.