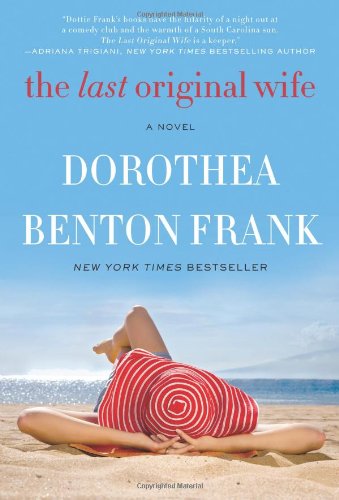 There are a lot of distinct flavors of chick lit and its slightly deeper cousin, women's fiction. There are the single gal looking for love stories, or the single empowered gal who realizes she doesn't need love. Then as the woman moves into her 30's, there are the home/life balance books which can focus on motherhood or career or trying to balance the two. Women in their 40's can deal with crises regarding rebellious teenagers or husbands or losing themselves or finding themselves.
Dorothea Benton Frank's novels seem to deal with women in their 50's. They too might deal with any of these issues, though the "kids" are now adults, not much has changed. Some of them might be starting over or struggling to hang on.
The Last Original Wife tells the story of Les and Wes, a couple among their friends when original wives are all-but-extinct. Whether it's due to divorce or death, their closest friends are all sporting Barbies on their arms where their wives used to be. Leslie doesn't fit in with these girls who are young enough to be her daughter and doesn't want to.
Speaking of daughters, as much as she loves her granddaughter, Les wishes that her daughter would be more responsible and not just assume that Leslie is going to be there for childcare anytime she needs to "work" (after which she always ends up out at the bars).
And her husband? He doesn't appreciate her either. When she suffered a serious injury while on vacation, he went and played golf, leaving her with only the Barbie wife for company.
The story is told in alternating chapters from Wes and Les, helping the reader to hear both sides of the story. What I heard was a lot of whining! I know that we were supposed to be sympathetic to Leslie because Wes is sort of a self-centered, old-fashioned pig, but he was open to being enlightened about Leslie's state of mind, whereas Leslie — who willingly went along with the way her husband and kids treated her — suddenly acted out, a bit like a rebellious teen herself.
I won't tell you how it ends up, but the journey was interesting. I did enjoy seeing the facets of this marriage of empty nesters, and I enjoyed the way the story was told. Even though it's a serious subject, it was a light-hearted read with lots of humor.
Find out more: