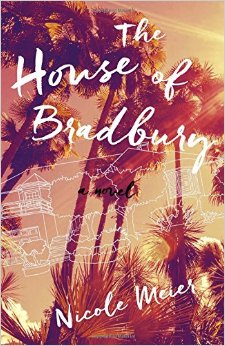 Mia's life is getting back on track. Thanks to a generous loan from her ex-boyfriend Carson, a well-known up-and-coming director, she's been able to purchase the old yellow home owned and inhabited by her literary idol Ray Bradbury. Turning the doorknob and entering for the first time as the new owner feels almost cathartic. Mia is a writer herself, but her first novel was panned by critics, her agent has stopped returning her phone calls, and Mia fell down and down into a deep depression, ending up living with her sister and breaking up with Carson, although admittedly his serial infidelity had something to do with that too. She hopes living in a house so recently inhabited and loved by a great author will help her break through the wall of writer's block.
Mia moves in, accompanied by her sister Emma, who's still into playing her role as the older sibling and nagging Mia about her life. Then Carson calls in a favor. His latest big-name young star is just getting out of rehab, and needs a safe place to stay. And so Mia finds herself playing hostess/big sister to the gorgeous young Zoe Winter, who mostly hides out in her room. They begin to cautiously bond over late-night cups of camomile tea, but Zoe is wary and Mia feels uncertain and old.
Additionally, there's the drawings. On an irregular but semi-frequent basis, Mia finds hand-drawn pictures taped to the front door, with no idea of who's leaving them and when. The drawings seem to fit Ray Bradbury's stories–a hallowe'en tree decked in jack o'lanterns, a spiny paper dragon. Mia is more intrigued than scared, and Zoe is positively delighted and calls the unseen visitor "our own Boo Radley." But Mia is unsure. Is the motive benign, or is someone stalking her? Having a big name star at her house, and the subsequent secrecy it requires to keep that fact from the paparazzi, is draining. On the other hand, Mia finds herself beginning to write again.
The House of Bradbury is a novel about starting over in more ways than one. Zoe needs to learn that she can live without drugs and alcohol, and needs to learn to make wise choices. Mia needs to learn that even perfect-looking lives aren't always so, and that she needs to look outward for inspiration instead of being too focused on her own needs. Even Carson and Emma learn that although things may change, the new reality can be better than the old. I don't mean to make it sound like this is a didactic book though–it's a fun, light read. I so wish that a young writer like Mia had actually moved into Bradbury's former home, instead of it being torn down for developments. I rather fell in love with the descriptions of the well-loved old house, and I feel Mia and I would make great room-mates ourselves, although I hate camomile tea. (I could have peppermint though, or more like black with a spot of milk). A great summer read.