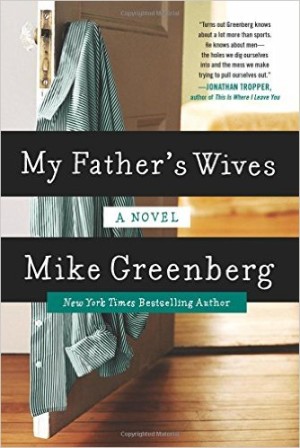 I'm not a sports fan, but I've watched and listened to a lot of sports talk over the years, and I'm kind of a fan of that. When Michelle raved over ESPN's Mike Greenberg's first novel All You Could Ask For, I was intrigued. When My Father's Wives showed up as an unsolicited review copy in my mailbox, I was excited to read it.*
It's a short novel, but it worked. It all takes place over the course of a week, during which time Jonathan makes decisions about his future as he looks back at his past. The opening sentence is quite titillating, "When I woke up that morning, my life was perfect." He shares a bit about his perfect life: a beautiful home with a lovely wife and children, a job he seems to enjoy where he even gets the opportunity to play basketball with Michael Jordan. But something happened later that day that makes him question his wife, his life. Somehow the uncertainty about his present life leads him to explore his past.
His father, a senator, left Jonathan and his mother when he was nine. He spent his remaining years with several different women. Since Johnathan never knew his father as an adult, and the difficulties between his mother and father prevents him from talking to his mom about him, he decides to track down each of the wives to see what he can find out.
It makes for an interesting framework for a story. The two storylines — getting to know his father posthumously and trying to figure out if he really knows his wife — don't necessarily go together, but they are both interesting in their own right.
I guess what prevented me from loving this book is that the male voice is too strong. I often read and enjoy male author's who write from the male POV, but sometimes it turns me off a little bit, and in this case it did. I would definitely read more of Greenberg's novels, because he definitely knows how to tell a story.
*When searching for Michelle's review of his first book, I found that she had reviewed this book in hardcover. I guess it was sent to me in honor of the paperback release. I was not surprised to find that she had some of the same thoughts on this book as I did (linked to her review).