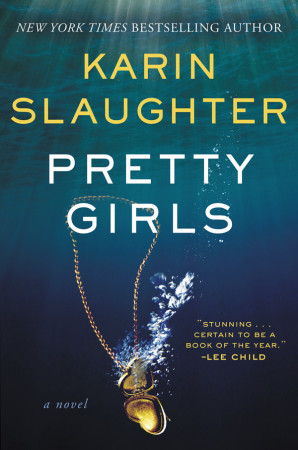 Pretty Girls is almost an excellent book. It's a great read, hard to put down. It's also really disturbing, with descriptions of torture, mutilation, rape and more. I can't recommend it. It feels strange to tell you I enjoyed it, but I did, with caveats. The story is great–fast moving and yet still managing to develop the characters, mostly through looks at their past, how their family was irretrievably damaged and what each sister did with that. But, the violence is so disturbing, and given in what I felt was unnecessary detail, that it spoiled it for me.
There is also a lovely plot twist, which I don't want to reveal, so I'm only going to tell you about the beginning. I didn't want to even tell you about Paul's death, but the book jacket already did that. So here goes:
Claire and Lydia are 2 sisters, estranged for about 20 years. It started when their oldest sister, Julia, disappeared. They've assumed the worst, and her vanishing ripped the family apart, causing irrevocable damage to the remaining sisters and their parents. In fact, the book opens with a letter from Sam, the father, to Julia, and there are several more interspersed throughout the story–touching, honest, and raw letters written after her disappearance. Claire married Paul, in spite of Lydia's accusation that he tried to rape her. But Lydia was such a mess at the time–stealing from her family, high most of the time. Paul, a clean-cut graduate student, was obviously going places, and becomes a millionaire with a custom-built house. When the book opens, he and Claire are celebrating in a restaurant, when Paul uncharacteristically pulls his wife into an alley where they make out. They are attacked, and Paul is shot and killed. Claire returns from the funeral to find her extremely expensive, high-tech house being burglarized, and it's when she begins to investigate that things go pear-shaped.
Meanwhile, Lydia has struggled to make her own life. She's dating an ex-con and staying clean. She has a daughter, 18, a senior in high school, whose existence she's hidden from her family. She's managed to get her into a very good school, and we are introduced to the duo at a school event, where Lydia is snarky about the other mothers and their charmed, white-bread lives. We like her character right away–scrappy, self-sufficient, tough and determined, but with a sense of humor. Claire, on the other hand, seems a bit brittle at first.
Events draw Claire and Lydia together, almost against their wills. The sisters reunite, and have to learn to work past their hurts and wounds if they are going to survive the latest ordeal. Because although it seems odd, something connects both Julia's disappearance and Paul's murder, and finding out is going to take every ounce of strength and will to survive, and love, that the sisters have.
Pretty Girls
is a good story if you're not bothered by violence against women. If you are and you decide to try it anyway, you can do what I did–sort of squint a bit and skim through the pages. (You can't just skip them as they are essential to the plot) It's too bad, because it could have been an excellent book, but I don't see the point of creating horrible and graphic scenes of torture as entertainment.