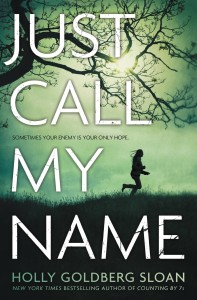 I read I'll Be There to get up to speed on the characters whose story continues in Holly Goldberg Sloan's new book Just Call My Name. The first book was fine. The characters certainly intrigued me, but I wasn't 100% wowed. Wanting to follow the characters, and especially knowing there was another book hat was going to continue the story kept me reading.
This book had a stronger pacing than the first one. Maybe it's just because the scene was set, and I already knew the characters and the situation. The characters each had a lot of growth during this novel, and new characters were introduced as well.
The background from the first novel that led into the story is this: Seventeen-year-old Emily is singing a rather unremarkable solo at the church at which her father is working as choir director, when Sam comes in and sits in the back row, as he often does in whatever town they've landed in. He likes the music. He also likes knowing that he's invisible. No one ever notices a guy like him, scruffy. But today, someone did. Emily locked eyes with him, and sang that Jackson 5 song "I'll be there."
He left, but she sees him again in a parking lot and chases him down. That's how their story starts. He learns about her family, she learns about his. They are star-crossed lovers to an extent, and this story is about what happens when a misfit boy with an awful father survives and makes sure his younger brother Riddle does as well.
So that was the first book, then this book picks up immediately. Riddle and Sam are both proving to be amazingly adaptable and yet challenges are thrown their way which change things. Sam is suddenly confronted by the attention of another girl. This provides an interesting but atypical love triangle kind of setting (throw in the guy who likes Emily, and it's really a love square).
The characters are typically Sloan-esque, a little quirky and totally over-the-top in some ways (in which I fell in absolute love when I read Counting by 7s) especially the addition of Destiny, a pixie of a girl whose life has taken many of the twists and turns that Sam's has.
I loved getting to know all the characters better and seeing them continue to develop, but what really made this novel work for me was the last 1/3 or so, which was a fast-paced edge-on-your seat ride. I honestly didn't see how it could wrap up in a timely fashion as I flew through the pages, but it did.
Fans of suspenseful thrillers who like well-developed characters should definitely check this out.