Last November, author Bernice McFadden contributed an On Reading post entitled Seg-book-gation in which she encouraged readers to send a message to publishers that books written by African-American authors need not only be marketed to African-American audiences. As a white, 30-something female reader, I am making a concerted effort to be more aware of books and authors with which I choose to spend my time, reminding myself that while I enjoy books about 30-something year old white moms, there is also value to be found in books written by and filled with characters who wouldn't check off the same boxes on the Census form as me.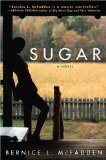 After reading Bernice McFadden's essay, I put Sugar, her debut novel released ten years ago, on my reading list, and my online book club is reading and discussing it this month. I have to say right up front that while I enjoyed this book immensely, this is not a novel for the faint of heart. With sexually graphic language and some heart-wrenching depictions of violence, readers who are sensitive to this type of content would most likely be uncomfortable. While it sounds odd to say that I enjoyed a book with such despair-filled content that often hurt to read, I cannot deny that the writing was powerful and the voice with which the story is told is unforgettable.
With 1950's Arkansas as the backdrop, the unlikely friendship of two women is at the heart of Sugar. In a small black town where the Sunday services are a whole community activity, the introduction of a young, heavily made-up and scantily-clad woman keeping house by herself on Grove Street cannot pass quietly. Sugar's history, horrifying and painful, may be officially unknown to the town's ladies, but they have their suspicions, certainly. Only Pearl confronts her own fears and worries and reaches out to Sugar, and in the process, both women discover new parts of themselves as they learn about each other.
While I may not have any personal experience with this time period or setting, it definitely came off as an authentic voice. While reading, I could feel the oppressive heat and smell the heavy scent of honeysuckle. Not as pleasantly, I also experienced the fear and terror and hopelessness that plagues Sugar through her entire life, because her emotions are palpable in the narration, just the same as Pearl's. Sugar is filled with much more pain than redemption and more suffering than relief, which doesn't make for a comfortable reading, but who says that everything we read has to have a happy ending?
Dawn's emotions are worn on her sleeve, and they get put through the wringer in her usual reading choices. She puts them on full display on her blog as well, at my thoughts exactly.