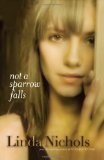 In the past couple of years, I have read two books by Linda Nichols: At the Scent of Water
(review HERE) and In Search of Eden
. Bethany House recently re-released Linda Nichols's first Christian fiction work, Not a Sparrow Falls
, and I jumped at the chance to review it.
As the story opens, Mary Bridget Washburn is tired of her broken life. After running away from home and spending years helping her boyfriend with his meth operation, she makes a plan to leave her empty life in search of something better. When she encounters trouble, Mary reports her boyfriend to the police, hoping that she will be able to escape from him if he is behind bars.
Mary changes her name and leads a simple and quiet life until she witnesses a teen-aged girl crying out to God for help. Mary sees herself in this young girl, and she can't help but reach out to her. She soon finds herself completely involved in the life of the girl's family, and as she attempts to help ease the family's pain, she finds answers for herself as well.
This is a very simplistic synopsis of Not a Sparrow Falls
. In fact, the pain and the problems that the characters in this story face are deep and complex. Although they are surrounded by people, the characters in this novel are alone, and they even feel as though they have been deserted by God or they have sinned too much to be forgiven. As Not a Sparrow Falls
unfolds, the characters feel the pull of earthly influences and the evil that surrounds them; but they must learn that healing and forgiveness are possible.
Not a Sparrow Falls
was first published in 2002. I missed it the first time around, so I am thankful for this new edition. If you have enjoyed Mrs. Nichols's books in the past, or if you are looking for a story that will draw you in and characters that will touch your heart, look no further than Not a Sparrow Falls
.
Lauren is a wife, a mother of two, and an avid reader. She blogs at Baseballs and Bows. Lauren thanks Bethany House for providing the review copy of this book.