Almost two years ago, I read In Search of Eden
by Linda Nichols (you can read my review HERE). It was an excellent book, and I recommend it to you. Because I enjoyed Mrs. Nichols' writing, I was excited to read At the Scent of Water
, which was re-released by Bethany House in February.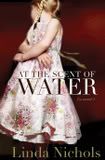 Samuel and Annie Truelove have always been sweethearts. They grew up in the same, small North Carolina town, and their families were dear friends. Nothing felt more right than when they grew up and married. Unfortunately, their life together slowly erodes as Sam, a gifted heart surgeon, spends most of his time at work. When tragedy strikes, their marriage crumbles, and Annie moves across the country. Five years later, Annie returns to pack up her things and close the door on her former life. Because unexpected events keep her in North Carolina, Annie and Sam are forced to deal with the grief and pain from the past.
At the Scent of Water
is a touching look at grief, loss, and healing; it is also a poignant reminder of God's sovereignty and grace. Although I felt that the beginning of the book was a little slow, the story gained momentum, and I couldn't stop reading. I especially liked the way the author tied the beginning and the ending of the story together.
We can't predict what tragedies we will face in life, but we know we will face them. At the Scent of Water
is a relatable story that warmed my heart, but it also prompted me to consider my own life and how I deal with sorrow and trials. I encourage you to read it.

If you would like to win a copy of this book, please leave a comment. We will post a winner next Wednesday, March 11.
The winners of the set of 3 Ruby and the Booker Boys books are

#26 Kathy Scott
#48 Andria
#72 Sandy M.

We also have a surprise GRAND PRIZE winner, because the author Derrick Barnes was so pleased with our review (see comment #22 on the post) that he generously offered to autograph a set and include the upcoming 4th book and a poster as well. That winner is

#99 Donna C.
Lauren is a wife, a mother of two, and an avid reader. She blogs at Baseballs and Bows.