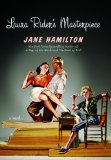 Jane Hamilton, a PEN/Ernest Hemingway Foundation Award winner and twice selected author in Oprah's Book Club, releases her latest novel this coming April. In it, she introduces us to a trio of characters that can be simultaneously understandable as well as confounding. I found Laura Rider's Masterpiece to be a rich novel that portrays marriage, desire, and intimacy from a wide array of perspectives, and never quite in the way I expected.
I want to say this book was bizarre, but I fear that has a negative connotation which I don't want to convey. These characters are funny, strange, realistic and surreal all at the same time, and the storyline is most definitely unique. A wife who wishes to be a writer (even the impetus for that longing is odd), helps to orchestrate an intimate relationship between her husband and a local news radio personality whom she has long admired, all as a type of character study for the great American romance novel she desires to produce. As weird as that may sound succinctly spelled out, the actual telling of the story is stranger still, yet as a whole I found the book to be so readable and believable in its unbelievability. A contradiction? Perhaps, but this book is a hodgepodge recipe of contradictions- attachment alongside detachment, reality within surrealism, truth and delusion woven together.
While I have never read any of Jane Hamilton's other novels previously, after Laura Rider's Masterpiece, I'm a bit intrigued to discover what else she has to offer. If her other works are anything like this one, I expect to be drawn into a world of complex relationships and fallible characters who keep me entertained from cover to cover.
Dawn brakes for books. She litters cyberspace with her silly thoughts and ridiculous rants at my thoughts exactly.