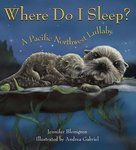 Recently I was afforded an opportunity to check out Where Do I Sleep?
: A Pacific Northwest Lullaby which, being that I live in the Pacific Northwest, looked like a pretty awesome book. And it was! I was not mistaken in the least about it's awesomeness. Written by Jennifer Blomgren, this book takes a look at animals that are located over in my neck of the woods, talking about where they sleep and how. Each animal receives about a paragraph of attention like so:
"Where do I sleep? Underneath the low trees,
Close to my mother, my head on my knees.
Someday I'll be grown and my spots will be gone.
I dream of that now; I'm a Blacktail Deer Fawn."
Andrea Gabriel illustrates this book in such a way as to bring all of the animals to life. The book has such a calm, hushed feel about it that it makes for a perfect, cozy bedtime story. It features animals such as the following: the Hermit Thrush, Salmon, a baby Sea Otter, a garden spider and a Bald Eagle among others. My son and I both instantly fell in love with this book and highly recommend it to you – regardless of what area of the country you live in. It's a delightful book that is sure to please (if your child is an animal lover like mine is!)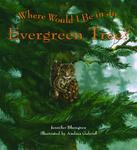 The second book we looked at, also written by Jennifer Blomgren and illustrated by Andrea Gabriel, was Where Would I Be in an Evergreen Tree?
The book begins with a seed falling to the forest floor. The seed begins "reaching for the sun" as we discover it has been a very useful seed, and begins to grow up into a big, tall evergreen tree. This tree grows for centuries, providing homes for all sorts of animals. Essentially what this book does is look at the life of one tree and the way it effects the environment. We are introduced to the squirrel, woodpeckers, butterflies, spiders and many others. It provides shelter and adds to the scenery depicted by Gabriel in her artwork. A truly beautiful book, it is one that we also feel safe recommending to you. It concludes in a very welcoming manner, as follows:
"So many creatures live in these woods –
In one single tree, there are more neighborhoods
than you'd find in a city, or any big town.
Some live in the canopy, some underground.
Some live in the needles, some under the bark.
Some sleep in the day and some sleep when it's dark.
There are many too many to fit in this book,
so come to the forest and quietly look."
Both of these books are published by Sasquatch Books who offer any number of books that specifically relate to life in the Pacific Northwest. Again, regardless of where you are living, these books are worth your time and attention. Naturally, I love them all the more because of my present location. I love using them to explore our own backyard! Through these books I invite you to explore it with us! Enjoy!
Carrie comes by her book obsession honestly, having descended from a long line of bibliophiles. She blogs about books regularly at Reading to Know and Reading My Library.