One thing I notice is that in books, a lot of kids' parents are dead. Or they're missing or on vacation. If they are around, the parents are kind and wise and do things like braid your hair and play board games with you. In books, parents aren't bad unless they're stepparents. (That's not fair, in my opinion. I've had several stepparents, and some of them were very nice.) Real parents are nice to their kids.

That is not my experience.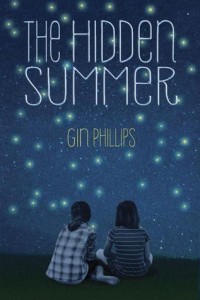 Nell's thoughts in The Hidden Summer by Gin Phillips, quoted above (page 13), sum up the "mother problem" that is in a lot of middle grade fiction. I loved the observation that the parents are missing, and in fact, this whole story is how Nell and her best friend Lydia escape for the summer. They're sort of 9 to 5 runaways, inventing excuses for their summer-long absence, as a means of dealing with their own mother problems.
Nell's mother is not really abusive, but she does have angry outbursts, and she doesn't seem to like Nell at all. Lydia's life seems perfect — perfect house, perfect mom — but it's all about appearances. Lydia's mom also seems indifferent about her being around or not.
I loved the idea of the adventure of packing food and supplies and having a getaway hangout. It reminded me a lot of one of my all-time favorite childhood books, Mandy by Julie Andrews. This novel read a bit more like an exciting adventure than these others which are more introspective. In fact, while I was consulting the book for my review, my 4th grade son (who isn't drawn to quiet introspective books) said that it sounded good after reading the back. Because it's not quite so deep, it is one that is easily accessible to the younger 4th graders of the middle-grade reading set, even though the girls are 12, and in spite of the fact that my public library shelved it in the YA section.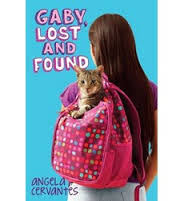 Gaby, Lost and Found by Angela Cervantes has a different mother problem. It's not that her mother is inattentive or abusive, she's just not there, and the reason is quite unique: She's been deported back to Honduras. Instead of staying with family friends as the friends and her mother would like, her father steps in to take care of her. She doesn't know her father very well, and she's certainly never been able to rely on him. Even though he moves in, she still has to take care of herself–feeding herself, locking up at night, etc.
Her sixth grade class has to pick a service project, either working with the animal shelter or in the soup kitchen. Since Gaby and her mom had to use the services there, Gaby really doesn't want to go there. What if her friends find out? Fortunately, the rest of the class agrees on the animal shelter. Gaby uses her talent with words to write fliers calling attention to the pets who need adopted. Gaby can't help but identify with these orphaned, abused, or unwanted animals.
I have to admit that hearing about Gaby's caring, hardworking mother trying her best to make a life for her and her daughter in America caused me to look at undocumented workers and their families in a different way. This storyline was not at all preachy or over the top, but it did make me think. Gaby's father's neglect is also presented in a totally age-appropriate way. It was a traditional school/friend story that will appeal to readers who enjoy this type of "problem novel."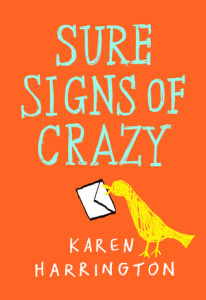 Sure Signs of Crazy brings in the mother of all mother problems. Sarah's mother is in prison for killing Sarah's twin brother. In spite of that grim plotpoint, I liked this book a lot for older middle grade readers (12 and up). Read my full review, published last month, by following the link.
These opinions are mine alone and not meant to represent the Cybils as a whole or the rest of the Middle Grade Panelists.
Check out our current giveaways. Subscribe to our feed. Follow us @5M4B on Twitter or on Facebook.