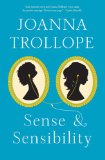 I love Joanna Trollope's books. She's insightful and accurate in her views of modern family life, and writes enjoyable stories filled with realistic characters. So I was intrigued when I saw she'd written a new version of Jane Austen's classic Sense and Sensibility. Apparently this is part of something called the Austen Project, in which 6 modern authors each retell one of Austen's novels.
Sense & Sensibility
retains Austen's basic plot but sets it in modern times, with a few tweaks for clarity. For example, it's not that the estate is entailed to John Dashwood as the only male heir, but rather that Henry and Belle never formally married, making their 3 daughters illegitimate. That works! And it's rather wonderful to see Belle as a sort of aging hippy, irresponsible but good-hearted, flaky about money but wanting only the best for her beloved girls. True to the original, Elinor and Marianne are beautiful but somewhat clueless in affairs of the heart. Cast out by their sister-in-law Fanny, who is doing up Norland in all the latest environmentally-friendly and expensive ways possible, the 3 sisters end up cast onto the kindness of other relatives.
Read my full review and enter your own copy at 5 Minutes for Mom.
Check out our current giveaways. Subscribe to our feed. Follow us @5M4B on Twitter or on Facebook.