Have you started your Christmas shopping yet? I haven't but I have started thinking about it. Ilsa, my 16 year old, and I were just discussing how maybe we should get going. If you are looking for something just right for younger children on your list, here are 3 new picture books that would provide a lovely addition to any library.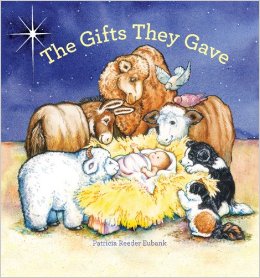 The Gifts They Gave:
Artist Patricia Reeder Eubank has taken the classic carol "Jesus our brother kind and good" and set it to her own delightful illustrations. The text describes what each animal provided the newborn, such as the cow that gave up her manger filled with hay, the donkey that carried his mother, the sheep that provided wool for a blanket, and the doves who cooed him to sleep.
Eubank has also added in two animals to the collection, the calico cat who purrs him to sleep, and the black and white dog who guards the newborn.
Children will delight in the simple repetitive rhymes and in studying all the animals. The Gifts They Gave
provides a very accessible look at the Christmas story for even the youngest of children.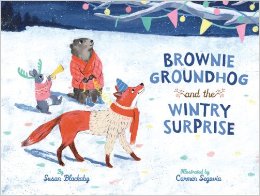 Brownie Groundhog and the Wintry Surprise
: Brownie Groundhog just wants to sleep her winter away, but her friends Fox and Bunny have other ideas! Brownie's last words to Fox before she headed off to bed were, "Do wintry things! Just don't wake me up." But Fox misses his little friend so much, he is mopey–until he comes up with a plan.
Fox and Bunny manage to do something wintry, but aren't able to avoid waking up Brownie–especially as their plan involves borrowing a lot of things from her house. Brownie is thrilled with her wintry surprise, followed by a feast!
Children will love the adventures of these 3 friends, and will enjoy the surprise as well. Brownie Groundhog and the Wintry Surprise
is perfect for older toddlers and early readers too. This is a book about animals in winter, so is appropriate for those who don't celebrate Christmas as well as for those who do.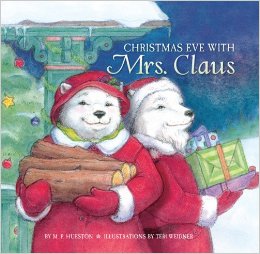 Christmas Eve with Mrs. Claus
: Christmas Eve is not only busy for Santa Claus, but for Mrs. Claus as well! She's in the kitchen, baking up a storm of treats; magic flying biscuits for the reindeer (but where did she put the honey?), gingerbread treats for the helpers (but where did that last cookie go?), healthy trail mix for Santa himself to snack on during the long night (but where are the missing chocolate chips to sweeten it?) Mrs. Claus seems to have mislaid several vital ingredients, and it's up to your child to lift the flaps and help her look for them.
Each page has 4 flaps and lots of surprises under each one. The illustrations are warm and cozy, and little ones will delight in finding the hidden pictures. Christmas Eve with Mrs. Claus
is a fun addition to any holiday library.