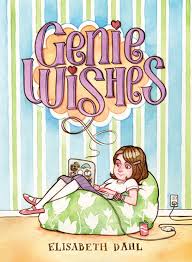 Genie is not in a bottle, she's just a 5th grade girl starting her last year of primary school. Her year begins with many changes typical of the age. She might be losing her best friend Sarah when new girl Blair comes to the school. She gets more responsibility when she's elected class blogger, but that also leads to some attention that she might wish she could avoid.
These types of stories are common for middle grade readers, but the ones I can remember often occur with slightly older characters. I liked the idea of featuring 10-year-olds dealing with these changes before the start of middle school, because honestly it's generally 4th and 5th graders who are reading this kind of middle grade fiction fare, and they like to read stories featuring older characters, I like the idea of it featuring a just-slightly younger cast.
Genie is a sweet and winsome character. She takes the changes in stride without being overly angsty or callous. Elizabeth Dahl's descriptive writing elevated the story, yet stayed true to Genie's voice. These are just a couple phrases that stood out to me: "A water droplet fell from my hair to the paper, landing on Blair's name, where it wiggled and shimmered in the sunlight" (page 2), "The chairs were so short, they made Dad look like a giraffe perched on a toadstool" (page 218),
The story is also advanced Genie's blog posts are shared, complete with the other students' comments.
This book as a mirror and a window
At KidLit Con 2013, the subject of diversity came up. We all agreed that books should be mirrors. meaning that children can find themselves in them, but they should also be windows through which children can see those who are different from themselves. I think Elizabeth Dahl did this well in Genie Wishes. Whether it was intentional or not, depending on what kind of child you are, you will either see yourself or understand the differences that we all have when you read about some of these characters:
a girl raised by her dad and grandmother
a girl raised by two dads
a girl of Hispanic heritage
a boy of middle-eastern heritage
a girl who is adopted
a church-going youth choir member
The other thing that I liked was that all of the characters were just students and friends. Sophie wasn't the "glossy raven haired beauty with flashing dark eyes." We didn't even learn her surname "Rodriguez" until the end of the book, after she was well-established as a character. Genie wasn't "the poor girl without a mother," though this detail did add depth to her character and family.
Another insight I had into this kind of book was from a conversation over dinner with Maureen of Confessions of a Bibliovore. We were talking about books such as this one that address moving on from childhood, and she mentioned one that was from the perspective of the child who is ready to move on. She said that we generally cast the "fast" girls (as my friend always called those young girls who push past their chronological age) in a negative light, and most books are from the POV of the girls who are trying to hang on to their childhood.
In Genie Wishes, when Sarah becomes friends with the fast lipgloss-wearing, flirtatious Blair, it causes a rift in hers and Genie's friendship. Another common friend Rebecca gravitates to the older lifestyle, while Genie matures gradually at her own pace and sticks with other friends who feel the same way she does.
As a mother, I was always wary of those girls. I couldn't identify with them, because I wasn't one of them nor was my daughter. Even reading about them, I tended to identify with the poor girls left behind, because in my mind they should be giving themselves time to grow up slowly, not feeling pressured to race ahead to the maturity that will always be there. But Maureen's point about the fact that just as some girls want to hang on to their childhood, other girls are just flat ready to leave it behind, stuck with me as I read it. I also think that Dahl's handling of the issue in a non-judgmental way underscored the fact that one is not necessarily more right or wrong than the other.
Girls who enjoy realistic fiction will like this book. I imagine that the subject matter of girl drama in friendships, first bras, first periods and the like would preclude most boys' interest in it.
This is a Cybils nominee, but my opinions do not represent the Cybils as a whole.
Check out our current giveaways. Subscribe to our feed. Follow us @5M4B on Twitter or on Facebook.