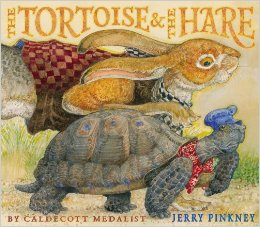 Jerry Pinkney has received five Caldecott Honors as well as the 2010 Caldecott Medal, in addition to winning the Coretta Scott King Award five times and the Coretta Scott King Honor four times. He is a contemporary author and illustrator of pure genius, and readers of all ages don't even need to be aware of all of these honors to be wowed by him, for simply opening up one of his books provides all the amazement that is needed. His latest, The Tortoise & the Hare, is a follow-up of sorts to his Caldecott Medal winning The Lion & the Mouse— another Aesop fable brought to gorgeous life in Pinkney's artwork.
Once again, Pinkney has created a mostly wordless book that beautifully tells a familiar tale through incredibly detailed painted illustrations. The few words that appear build upon each other to finally complete the well-known "moral of the story" that comes from this fable. The real power of this book, as is the case with an artist of Pinkney's measure, lies with the evocative illustrations, rich with feeling and details for young readers to examine and pull together to tell the story.
Even without words, there is clearly a narrative in play here, and preschoolers are often drawn to this genre of books because they cannot "read" the story incorrectly! Pinkney states in the Artist's Note at the end of the book that he opted to set the story in the American Southwest because it's a natural habitat for both title animals, and that he chose to portray the animals with articles of clothing to add more vibrancy to what is traditionally an environment of muted colors. The very last illustration is one to specifically call children's attention to, for it depicts the Hare's reaction to the conclusion of the race in a different manner than the traditional fable usually does. Pinkney states in the Artist's Note:
"But I wanted the hare to teach something, too: Winning isn't everything. He surprises his friends by not being the sore loser they might expect. Competitors can also be teammates and friends."
I personally believe that no home library is complete without some versions of Aesop's classic fables represented, and Jerry Pinkney has provided another beautiful option with this delightful book.

Check out more Wordless Wonders in my Friday's Five post from last week.