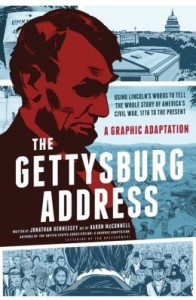 I am, in no way, a history buff. In all honesty, history was always my least favorite subject in school, and I took only the bare minimum of courses required for my high school graduation and never looked back. I don't have the kind of memory that lends itself to retaining important names and dates from historical events, and the delivery of facts always seemed as dry as could be when I was a student, so my interest always waned.
Author Jonathan Hennessey and illustrator Aaron McConnell take an entirely different angle in presenting history in their collaboration The Gettysburg Address: A Graphic Adaptation. Here, they take on one of American history's most well-known speeches, as well as the complex topics of slavery, the Civil War, and the early political split between advocates of states' rights and those in favor of a stronger federal government, and they do so in a literary and artistic format that holds great appeal to many teenaged readers.
The opening panels depict a family preparing to return to Gettysburg to check on their farm after the battle seems to have come to an end, but what they return to is shocking and terrifying, and the illustrations give a peek at a morbid scene at the encampment that has taken over their land. With a page turn, readers are thrust into the darkness of a forest where runaway slaves meet and share their fears of what will happen to them if the rebels find them. Turn again, and the scene shifts to an advancing group of Confederate soldiers who are badly injured and in doubt of their ability to continue on. The introduction wraps up by depicting the moment that President Abraham Lincoln receives first word of the battle at Gettysburg, a foreshadowing of the importance of this one particular battle to the outcome of the entire Civil War.
The rest of this graphic novel examines the speech given by President Lincoln on Thursday, November 19, 1863, breaking down the speech into sections that are then delved into even more by providing historical context for the deeper issues at play in Lincoln's words. A history of our nation's political movements up until this point is given, and connections are made to the movements and events that occurred in the decades to follow. A sociological and socio-political examination of the institution of slavery and how it became so integral to the culture of some segments of our country in its early years provides lessons much more nuanced than I ever received in my schooling.
As a college-educated American citizen, I should be ashamed to admit just how much I learned from a graphic novel about the factors that contributed to the Civil War and the meaning behind a speech that I've been aware of for decades. But, instead I choose to present my ignorance and newly acquired education as a resounding endorsement of the power of this book. Though I have to admit that I was sometimes thrown by the sudden shifts in time and place within the narrative, I chalk that up to my lack of experience with graphic novels as a genre, and this just forced me to be even more diligent in my reading to make sure that I was comprehending each shift. I appreciated the instruction on the wholly different philosophies present in the Declaration of Independence and the Constitution, two documents that I had previously assumed were evenly complementary, when in fact, they embody vastly different perspectives on the rights of the states and the federal government. Their influence on important political figures in our nation's history is examined here as well, offering additional factors that affected the course of our nation in its first century of existence.
Enter to Win
As we approach the 150th anniversary of President Abraham Lincoln's famous Gettysburg Address, we're happy to offer one copy of this graphic novel to help any interested reader brush up on history, buff or not! Follow the directions in the Giveaway Tools widget below to be entered. This giveaway is open to U.S. residents only.
The winners have been announced for The Book Thief and the Scholastic Art of Reading Every Day posters had been announced on the original posts.
Check out our current giveaways. Subscribe to our feed. Follow us @5M4B on Twitter or on Facebook.