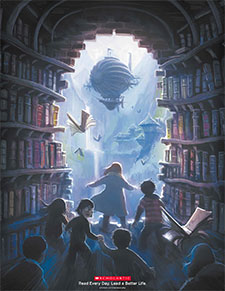 A few months ago, Scholastic asked 13 children's book illustrators to show us what the statement "Read Every Day. Lead a Better Life." means to them. The result is a stunning collection of illustrations from some of our young readers' biggest literary heroes: Dav Pilkey, Jeff Kinney, Kadir Nelson, Yuyi Morales, and Kazu Kibuishi, to name a few.
In addition to the beautiful posters, they've created companion educational resources for teachers to use in their classrooms: "The Art of Read Every Day"
Visit The Art of Read Every Day and you'll discover the following:
Artwork from 13 children's book illustrators (see the full list here)
Videos of the artists reading aloud and speaking about their artistic processes.

Discussion guides with writing and art prompts for students (grades K-2, 3-5)
An opportunity to purchase a 2014 desk calendar that features the entire collection of art. You can also purchase the individual poster art as well. (Net proceeds go to a nonprofit partner, Read Out and Read.)
Enter to Win
Look at all of the posters, then leave a comment saying which one you'd like (make sure you log it in the widget below as well). You'll win two copies, one to keep and one to give to a teacher.
Check out our current giveaways. Subscribe to our feed. Follow us @5M4B on Twitter or on Facebook.
The winner of Mitchell Goes Bowling has been announced on the original post.