This week I am featuring a couple of novels in verse for Marvelous Middle Grade Monday, with a bonus novel that sort of deals with a poetic theme.
Words with Wings by Nikki Grimes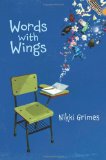 Gabby is a daydreamer. Her mother worries about it. She tries to keep her on task and enlists her teacher in helping. But when Gabby reigns in her daydreams, a little part of her fades away. She's trying to figure out who she is. Her parents have separated, but is it okay if she feels more similar to her dad? Will her mom understand?
Her teacher is ultimately a great support. The afterward said that the author Nikki Grimes named the teacher after a real-life teacher of hers that was important to her. I loved this element of the story. In addition to the poems that contribute to the narrative, some of the poems are just poems, sharing what a firecracker is like, for example. They fit into the story well, giving insight into Gabby's imagination.
Mountain Dog by Margarita Engle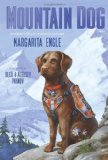 When Tony's mother is sent to jail for illegal dog breeding and fighting, he moves across the country to move with an uncle he's never met. Tony's emotions about his mother's poor choices — neglect not only of the dogs but of Tony himself, and his new life in a strange new place are perfectly expressed via the free verse form.
I loved Uncle Tio's quick and easy love of and support for Tony, and in alternating chapters, we see mountain rescue dog Gabe's doggie point of view as well. Helping to care for and train Gabe helps Tony gain self confidence. Tony grows so much, finding new abilities and interests that give him confidence.
This was a sweet and original story that writers and dog-lovers will appreciate.
Destiny, Rewritten by Katheryn Fitzmaurice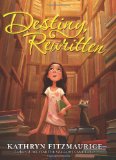 This is not a novel in verse, but it's a novel about a girl who is trying to escape her destiny of being the next Emily Dickinson, as her mother intended when she named her. Her mother is a poet and an English professor, and that is the best future she could imagine for her child. She's documented different parts of Emily's life in a volume of Emily Dickinson's poetry, sort of like a baby book, noting special facts and achievements next to certain poems.
Emily lives in a non-traditional family. She has never known her dad. She and her mother moved in with her mother's sister and her son when her husband passed away. Much of the story involves her trying to get her mother to reveal her father's identity. Her mother is a big believer in destiny and tells Emily that they'll both know when the time is right for her to find out. She finally relents and tells her that her father's name is written somewhere in that book.
But then the book accidentally gets donated when her cousin donates a box of books that the book was resting on, and Emily and her friend embark on a journey to find it. This element of suspense caused me to fly through the end of the book, but I liked the realistic elements the most: the pitch-perfect school setting replete with friends, projects, teachers, crushes, her friendship with Wavey in particular, and how she accepts the differences between herself and her flaky mom.
There's a storyline that follows Emily's obsession with Danielle Steel. She writes her letters, because she really wants to be a romance novelist, not a poet. The idea of a 6th grade girl writing to her idol is spot-on, but I don't know if middle grade readers will know who she is, and as a parent, I don't know if they should know who she is! As I recall, she's pretty steamy.
More books in this vein:
I also previously reviewed Serafina's Promise, a novel in verse that I liked a lot, and The 14 Fibs of Gregory K, which is a "regular" novel, but one which features poems written by Gregory K.
These are all Cybils Middle Grade Fiction nominees. I am on the round I panel, but my opinions do not represent the group as a whole.
Check out our current giveaways. Subscribe to our feed. Follow us @5M4B on Twitter or on Facebook.