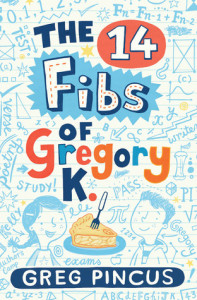 Gregory K. and his best friend Kelly have planned to go to Author Camp together when they were old enough ever since they can remember. But Gregory has a problem. Now that they are finally old enough, he is worried that his parents won't give him permission. They all love math and don't even know that Gregory really likes writing — poems, mostly. Since he hasn't been doing well in math, they suggest that he go to math camp.
So Gregory decides to tackle the math issue before he asks his parents. He tries to get extra help from his teacher Mr. Davis, who gives him a math journal to encourage him to see the math in his everyday life. He also tells his dad that he's decided to enter the City Math competition, knowing that it will make his dad happy. He ends up doing a project on Fibonacci — and yes, his dad is happy!
But he still keeps his desire to write and to attend Author Camp to himself. This might put his friendship with Kelly in jeopardy. Kelly is moving when school is out, and looks forward to being able to see Gregory there.
I read this book aloud with my 9 1/2 year old son. We both liked the book a lot. There was a lot of humor and heart, things that are musts in my middle grade fiction. I loved Gregory K's family dynamic, and Kelly's mom, and I loved the fact that Gregory ultimate fought for what he wanted and who he was.
I asked my son what he liked about The 14 Fibs of Gregory K. by Greg Pincus, and he said he liked the "cliffhangers." I do agree that there was the element of suspense — was Gregory going to finish a City Math project? Was Kelly going to find him out? How were his parents going to react when he told them he didn't like math and did like writing?
This is a Cybils nominee, and I am a round 1 panelist. My opinions are my own and not meant to reflect those of the committee as a whole.
Check out our current giveaways. Subscribe to our feed. Follow us @5M4B on Twitter or on Facebook.