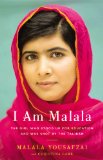 When the young Taliban swung himself up over the tailboard of the school bus and leaned in to the terrified school girls, he demanded "Who is Malala?" No one said anything, although there were inevitably some who glanced at Malala, the 15 year old high school student who was already well-known for her outspoken support for girls' education in a place where that was not always welcome. The Taliban fired 3 shots that miraculously didn't kill anyone, but he left Malala badly injured.
Most of the world knows this story. Malala was eventually flown to Birmingham, England, where she spent several months recuperating and undergoing surgeries in a hospital there, and she and her family now live there, for safety reasons. She addressed the UN on her 16th birthday with the inspirational words "One teacher, one child, one book and one pen can change the world." She was recently on Jon Stewart promoting her book, and he was rendered speechless by her.
I Am Malala
takes us behind the scenes to Malala's family, childhood, and nation. To learn more about this inspirational and fearless girl, read the rest of my review at 5 Minutes for Mom, where you can enter to win your own copy. Not only did I love this book, but I'm passing it on to my teenaged daughter and her friends.