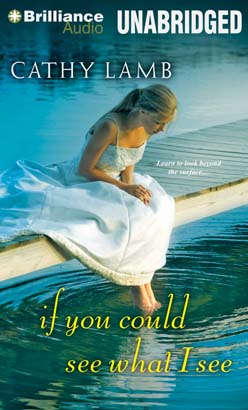 I was drawn to If You Could See What I See by Cathy Lamb, because I enjoy family stories. I'm going to post the publisher's description here, because I'm feeling lazy, and audiobook reviews are harder to write, but keep reading for my opinions:
For decades, the women in Meggie O'Rourke's family have run Lace, Satin, and Baubles, a lingerie business that specializes in creations as exquisitely pretty as they are practical. The dynamic in Meggie's family, however, is perpetually dysfunctional. In fact, if Meggie weren't being summoned back to Portland, Oregon, by her grandmother, she'd be inclined to stay away all together. Since her husband's death a year ago, Meggie's emotions have been in constant flux, and so has her career as a documentary film maker. Finding ways to keep the family business afloat — and dealing with her squabbling sisters Tori and Lacey — will at least give her a temporary focus. To draw customers to their website, Meggie decides to interview relatives and employees about their first bras and favorite lingerie. There are stories of first loves and aching regrets, passionate mistakes and surprising rendezvous. And as the revelations illuminate her family's past, Meggie begins to find her own way forward.
There was some content I could do without including some of Meggie's flashbacks and dreams. The death of her husband is what torments her, and the reader only gets bits and pieces until the end when everything is revealed. There's also some sexual content, a little spicier than I generally choose to read, in addition to lots of talk about the subject since Meggie's mother is a prominent sex therapist.
That said, the family works. Seeing the individual women — so different and yet bonded by their shared family connection — is inspiring and will be mirrors and windows for almost any reader. In the life of Lacey, I experienced both mirrors and windows. Lacey is the mother of a couple of teenagers. Her daughter is a good student but acting out with her boyfriend. That's not a mirror, but the balance of loving your kids just as they are, yet still guiding them to make good choices is, while ultimately realizing that the older they get, the less control we have over them at all. A HUGE window that I saw was in regards to another child sharing his transsexual identity and extreme depression with his family. I know — it sounds out there, but whether this is something you "agree with" or not, it was a very real portrayal and opened my eyes to something I knew absolutely nothing about.
Whether or not you intend to listen to this as an audiobook, read a bit more about the inspiring Grandma and listen to a sample to see if this story is for you. The 6 minute excerpt gives an accurate feel of the rest of the novel.
AUDIOBOOK NOTES
Listening to this novel, read by Amy McFadden, added so much to the story. She did a great job at the characters, including various accents, like Grandma's Irish brogue and Tori's hispanic accent, as well as the immigrants from all sorts of places who Grandma supports and encourages by giving them work.
You can hear some of this in the audio sample on the Brilliance audio page.