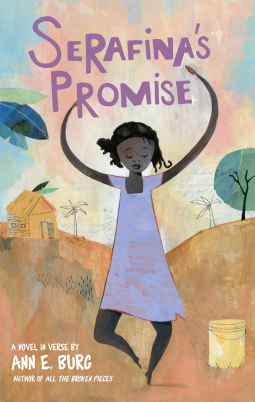 I'm not a news junkie. In fact, I sort of avoid the news. If something is bad enough or important enough, I'll hear about it second-hand. But I do like to raise my own awareness about world events, past and present, that affect us as a culture.
Enter stories set in different times or places featuring a cast of characters miles different from me. That's the way I like to learn about present or historical injustices.
Serafina's Promise by Ann E. Burg was this kind of story. There were things written that made me realize how very different the life of a young girl living in Port-au-Prince, Haiti is from mine or my children's. Of course I knew that, but Serafina's hope in the midst of her daily trials inspired me: her longing to go to school, something that might not even be possible yet we all take for granted, her loss of a baby brother who failed to thrive, her concern for a friend who lost her mother, and in the midst of it all, her perseverance. She talks so much about being hungry. The only time I'm hungry is when I'm trying to avoid the Cheese-Its in the pantry and ice cream in the freezer.
Her story was sad, and when tragedy heaped upon tragedy, I was on the verge of tears, which doesn't often happen to me when I'm reading. But there's hope:
The flood washed away my courage,

I say quietly.

But, Serafina, the flood is over. Don't let it destroy our dream. Without dreams the world is only dirt and dust. (p 116)
Those who liked A Long Walk to Water will like this one too. Serafina's Promise is a novel in verse, but that's sort of a selling point to me. Each time I read one, I think how wonderful it would be for a reluctant reader if he or she would pick it up. The text is sparse, but the story is rich. The cover seems a little young and whimsical to me, but it's worth looking beyond the cover and beyond the non-traditional use of verse.
Check out our current giveaways. Subscribe to our feed. Follow us @5M4B on Twitter or on Facebook.