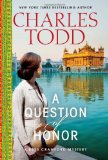 It's 1908 and Bess Crawford is 15, living in India with her parents–her father was Colonel of his Regiment–when another family receives a letter from England reporting that their young daughter, Alice, has succumbed to typhoid fever. That family had followed what was then common practice, sending their children to be raised in England by families who took in children for a price. A young officer, Lieutenant Wade, offers to escort the grieving mother back to check on her other daughter and visit Alice's grave. When he returns, he is charged with 5 murders–3 in England, and 2 in India, those of his parents. He disappears, and rumours abound that his body was found on the Khyber Pass as he was trying to escape to Afghanistan, but there's no proof. As a result, the regiment suffers a stain on its honor, as some believe the Colonel allowed one of his men to escape to protect him, rather than demanding that justice be served.
Flash forward 10 years. A Question of Honor, the latest in the Bess Crawford series, finds WWI still continuing unabated, despite rumours of an upcoming Armistice. (In honour of Bess herself, I am using British spelling, or as they refer to it, "correct.") It's early fall 1918, and Bess is continuing to serve as a nursing sister on the front lines in France, where she is excelling in her nursing skills, often escorting wounded back across the Channel to her native England.
A dying Indian soldier tells Bess that he's seen Lt. Wade fighting for England in the trenches of World War I, under an assumed name and bearing a different rank. Given the effect his escape had on her father's morale and reputation, Bess decides to use her leave to investigate further. She visits the village where the 3 murders occurred, searching for answers in the house itself. And what she finds will reveal another, deeper secret–one that could have easily touched her own life. Her quest for the truth will involve both her parents as well as Simon, a character who fills a role rather like that of an older brother in her life.
This is the 6th Bess Crawford book and in my opinion, it's the best. Bess' forays into investigation feel more natural, and when we finally learn "who-dunnit," the culprit is logical and fits. (These elements have been weaknesses in previous books in the series) As always, I feel author Charles Todd has done an excellent job of recreating a time different from our own. Bess exudes a sense of duty and practicality that one would expect of a nursing sister from the time, and the descriptions of nursing on the front lines are well-done if not overly detailed. I'm a big fan of Bess Crawford, and I highly recommend this latest installment. As with most detective series, it's not necessary to read the books in order, although it can help with small details.