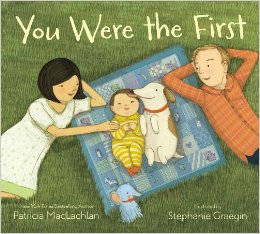 Parents preparing to read the new picture book You Were the First to their child should likely place a box of tissues nearby, just in case. Patricia MacLachlan has written a touching story in the form of a love letter of sorts from parents to their firstborn child, and it balances sentimentality and love without getting too sappy.
You were the first…

You were the first to sleep in the basket

with the yellow ribbon wound round.
In the illustration that accompanies those opening words, two new parents are seen gazing down upon their swaddled baby asleep in the yellow bassinet. Their wonder and love are heartfelt in that image, and I dare say that all parents will have a moment of reminiscing regardless of the current age of their first baby.
With each page turn, some time passes as the parents continue to tell the child about all of the firsts they experienced together, and some will likely make both children and parents giggle a bit. As you near the end of the book, the child appears to be about a year old, and an illustration shows the three walking, hand in hand, as the sun sets golden orange in the sky beyond them. The words on this particular page are the ones that finally made my impending tears begin to fall.
I love so very much about this book. It's quiet, and it begs to be read by a parent snuggling with his or her child. The illustrations by Stephanie Graegin are just cartoonish enough to be highly appealing to young children, while still appearing realistic in scenes that families will relate to. I also adore that the book presents a mixed-race family without the story being explicitly about that fact. They're simply a family, and more images of diverse characters are needed in children's literature that don't focus simply on their culture or race.
Everything about this book is simply beautiful. First-time parents should likely expect to see this book making an appearance as a gift at baby showers, and more seasoned parents can take a moment to read this to their own first born, regardless of their age. I know that I'm looking forward to making my 13-year-old sit down with me this week to show him this book. I'll be sure to grab the tissues before we get too comfy.