We received no compensation or material benefit for this post, but I wanted to share this fabulous $100 giveaway with you!
Shakespeare's stories are absolutely iconic. Whether it's a modern-day retelling, or true to the traditional period, the story of forbidden love — young love –never dies.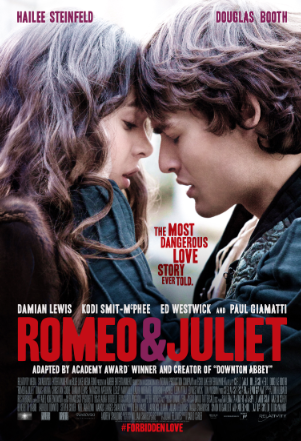 Romeo and Juliet, William Shakespeare's epic and searing tale of love, is revitalized on screen by writer Julian Fellowes (Downton Abbey) and director Carlos Carlei (The Flight of the Innocent). An ageless story from the world's most renowned author is reimagined for the 21st Century. This adaptation is told in the lush traditional setting it was written, but gives a new generation the chance to fall in love with the enduring legend. With an all-star cast including Hailee Steinfeld, Douglas Booth, Paul Giamatti and Stellan Skarsgard, it affords those unfamiliar with the tale the chance to put faces to the two names they've undoubtedly heard innumerable times: Romeo and Juliet. Every generation deserves to discover this lasting love.
Release: October 11, 2013
Director: Carlo Carrel
Writers: Julian Fellowes (Adapted from the play by William Shakespeare)
Cast: Hailee Steinfeld, Douglas Booth, Tomas Arana, Christian Cooke, Damian Lewis, Natascha McElhone, Lesley Manville, Laura Morante, Kodi Smit-McPhee, Leon Vitali, Ed Westwick, Tom Wisdom, with Stellan Skarsgård and Paul Giamatti
Get Social
Instagram: Romeoandjulietthefilm
Twitter: @romeojulietfilm
Facebook:Facebook.com/romeoandjulietthefilm
#ForbiddenLove
Shakespeare Lovers' Gift Pack
One of you, U.S. addresses only, will be entered to win a fantastic gift package including:
A copy of No Fear Shakespeare: Romeo and Juliet
Shakespearean insult bandages
Shakespeare insult playing cards
Movie branded lip gloss and mint tin
Venetian masquerade mask
"Shakespeare Is My Homeboy" decorative pillow
Leather bound notebook
A $50 gift card to Barnes & Noble
Enter your name and email address in the widget below, and then leave a comment telling me which of these fun items you're most excited about, and just for fun — which is your favorite Shakespeare play.
The movie opens October 11. Will you be there?
Check out our current giveaways. Subscribe to our feed. Follow us @5M4B on Twitter or on Facebook.