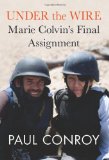 War-correspondent and photojournalist Paul Conroy was in Syria, in the besieged neighbourhood of Homs known as Baba Amr, when the house where he and other journalists were headquartered was deliberately targeted by President Assad's troops. The attack killed his long-time colleague and friend Marie Colvin, along with another French journalist, and left Paul with a fist-sized hole through his thigh. Others were gravely wounded as well. While it's no spoiler to announce that Conroy survived the ordeal, it really looked highly unlikely for a while there. Now he's written a book about his adventures. Under the Wire" Marie Colvin's Final Assignment
gives a fascinating glimpse into the tough world of war correspondents, those who go willingly into the hell of battle in order to report to the world what they see.
Because that's rather the point, in a way. Why on earth would otherwise sane people go blithely into a nightmare, and indeed even go to great lengths to get there? Because, in the words of Marie Colvin, "We have to show this to the world. We will make a difference." (144) "In Baba Amr, as in other conflicts, she found her purpose in describing the humanitarian costs that war forced civilians to pay. She would give them a voice and put them center stage." (133)
The book opens with the story of how the two met. In 2003 Conroy, along with a couple of colleagues, was trying to get into Iraq to cover the war there, but without official papers from the Syrian government to allow him to cross the border, he was in the desperate situation of building a raft in a hotel room with the plan of smuggling himself across the river into northern Iraq. He was caught and deported before he made it, but that night back at a hotel filled with frustrated journalists, he met the legendary Marie Colvin, called the greatest war correspondent of her generation. Tenacious, fearless, with a reputation of being the last journalist to leave a dangerous situation, Marie Colvin possessed a passion for justice that led her to risk life and limb in order to do her part to not allow the dictators and oppressors of this world to operate in immunity from world opinion.
After their initial meeting in 2003, Conroy and Colvin didn't work together again until 2011, in Libya, where together they covered Misrati and Tripoli. Then they went together into Syria, determined to not only enter the country secretly, but to make it into Homs, an area entirely surrounded by Assad's troops and under constant shelling. Their story is  sensational and shocking, and even as you are gripped by a sense of horror, you won't want to put the book down.
From the beginning, things just keep getting worse. They make it over the border from Lebanon to Syria, and they make it to Homs, which is bad enough. But then they announce their determination to go to the Baba Amr neighbourhood, ringed by Assad's forces who shell it constantly every day from 6:30 a.m. onwards except for a short lunch break, when the snipers take over. They travel by rickety cars which threaten to break down, crammed in trucks full of rebel soldiers who sing as they move forward, and through a 5 kilometre long tunnel where they can't even stand upright and where silence must be absolute lest their location be compromised. Once there, even as battle-hardened as they are, they find the conditions shocking and heart-breaking. When a rumour from a reliable source announces the advent of ground forces the next day, the duo reluctantly agree to leave, and when the ground forces don't materialize, Marie in particular is avid to go back. And while you might think that's the end of the story, it's not, although it is the end of her story. Some of the most gripping parts are towards the end, when the survivors endure almost unimaginable obstacles to get back out of Baba Amr. Frankly, there was one point where I thought I'd have chosen to die rather than keep trying, but I'm thankful that Paul Conroy was not of my persuasion and not only kept going, but recorded his ordeal.
Under the Wire gives a fascinating glimpse at life as it is lived in a war zone. There are surreal moments, times of humour, times of warmth, and of course lots of heartbreak. Conroy conveys a sense of outrage at the horrors of war in general and the Syrian war in particular, where civilians have become the targets of their own government. Although it tells a specific story about a specific time and place, in many ways it transcends that to tell of the stresses and dangers faced by war correspondents everywhere. Throughout the book, Marie Colvin shines as an example of fortitude, stubbornness and compassion. "For Marie, every death made her want to tell the story more. Marie Colvin did not give up–ever." (135) She was certainly exceptional, but I came away with a renewed sense of gratitude and awe at war correspondents in general. And I read in the news today that one of the generals mentioned in the book was killed–another reminder at how books like this can make far-away situations much more real and immediate.
Enter to Win
The giveaway is closed.
One of you can win a copy of Under the Wire
for yourself! Although it's not an easy read, it's a very worthwhile one, and it's an extremely gripping story as well.
The winners for Mother, Mother and Rags and Bones have been notified and announced on the widgets on the original post.
Check out our current giveaways. Subscribe to our feed. Follow us @5M4B on Twitter or on Facebook.