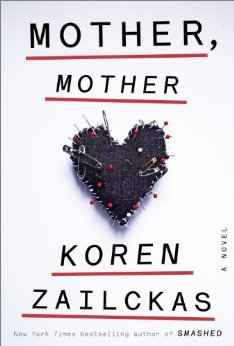 Dysfunctional families are nothing new. The family in Mother, Mother by Koren Zailckas, however, is. Their oldest daughter Rose ran away a year ago, escaping their mother after having an abortion that the mom terrorized her over. And the younger daughter is in a mental institution after having stabbed her younger brother with a knife while high.
Or so we – and they – all think. The book is told from the alternating chapter perspective of Violet, a sixteen year old trying to find oblivion, and Will, her twelve year old brother recently diagnosed with both autism spectrum disorder and epilepsy. Josephine, their mother, is trying to hold the family together after admitting Violet to Fallkill, an inpatient mental hospital, to keep her from harming Will and Douglas, the father, is suspected of having an affair.
To the outside world, they have always been the perfect family, with Rose the talented actress who won all the leads in local plays and Will who is the gifted child. Violet skated by, and Josephine and Douglas appear to be your protypical happily married couple. Once Rose disappears, that veneer begins to crack, especially internally.
Josephine turns her love and attention to Will instead of Rose, but this isn't the kind of love a mother would typically give her child. It's understandable that she pulled her child out of school the previous year after he'd been bullied by his teacher and then students after Josephine went after the school district repeatedly before finally having Will diagnosed with epilepsy and ASD. She fears for his safety with the lack of carpeted surfaces if Will were to have an epileptic seizure, but only later does it come to light that it took going to three doctors before she was given either diagnosis.
Violet knows she was high on seeds when she came home the night Will was attacked. She remembers throwing her dish of mushroom risotto into the dishwasher uneaten after her mother readily admits that she used beef stock in the vegetarian dish and then raiding the fridge for any vegetable she could find to make her own dinner. She remembers picking up the knife to chop the veggies, but she doesn't remember attacking her brother, though she knows she must have.
As the book continues, the "eccentricities" of Josephine become more and more apparent, and her manipulations and actions less and less understandable. It's easy to see how seductive and easy it would be to fall prey to her machinations, as all three children – and Douglas – have. Rose apparently woke up and got out, and Violet begins to understand more of what's happening while she's at Fallkill, while Douglas also starts to have his eyes opened to what's happening in his own house.
I will say that this is by far the most disturbing book I've read in a long time. It gave me the creeps, but yet it drew me in. I stayed up until 1:30am to read it. I felt dirty after reading it, horrified by how easily a hidden evil can fester within a family but fascinated by the characters and just waiting to see how it all plays out.
Mother, Mother is the first novel by Koren Zailckas, but she's previously written two other memoirs about her history of drinking and anger  – Smashed  and Fury. Not only does she know her material from personal experience, but Zailckas draws an amazing portrait of a family. I was repelled by Josephine but drawn into the book so much more than I had expected. I am definitely looking forward to another novel from Zailckas and can't wait to read it.
Check out what other reviewers thought over at the TLC Book Tours page for Mother, Mother.
Win it
We have a copy for one of you. Just start off by entering your name and email in the widget below. Then leave a comment telling us what draws you to disturbing books like this.
Check out our current giveaways. Subscribe to our feed. Follow us @5M4B on Twitter or on Facebook.
Written by Michelle whose life was thankfully nothing like that of the family in "Mother, Mother." Though she sometimes fears being the "mean mom" she knows she'd never go anywhere near the disease that was Josephine. See how she interacts with her wee ones on her blog Honest & Truly! or follow along with her on Twitter where she is also @HonestAndTruly.