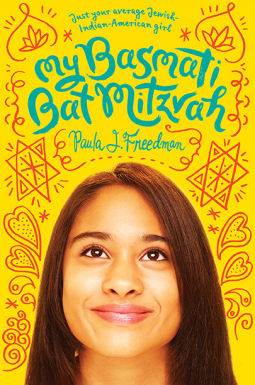 My Basmati Bat Mitzvah by Paula J. Freedman is a realistic fiction novel about regular girls. They giggle, they gossip, they dance around their bedrooms. This realism is the kind of thing that appealed to me as a young reader, and that I still enjoy reading now (otherwise, how am I going to know how 12-year-olds really think?).
Tara Feinstein is half Jewish and half Indian. She's been going to Hebrew school with her best friend Rebecca, getting ready for her Bat Mizvah. But she's not so sure she believes in all that. Does she have to be sure before she goes through with it? If she does it, is she turning her back on her Indian heritage? These questions were handled in a totally age-appropriate way. Tara didn't have any grand introspection or revelations, but she did consider the issues.
In addition to studying for the ceremony, she's dealing with Ben O., who has always been one of her best friends. But now that they are in middle school, he's acting a little strange. Does he "like" her? Does he "like" someone else and so want to spend less time with her? And to give it the perfect middle grade novel trifecta (adding to boy issues and identity issues), there's girl drama. All of a sudden Rebecca and Sheila seem to be hanging out more, and she's changing. Is she going to lose her friend? Are they growing apart?
Kids who like multicultural stories will enjoy this one, set in a familiar present time, yet with glimpses of Indian and Jewish food and culture. I also think it's general enough to appeal to those who like reading about kids just like themselves.