What do you remember about your Shakespeare studies? In spite of the plays I read in high school and taking a college class on Shakespeare, I honestly don't remember a whole lot. I tried to remedy some of that by tackling Hamlet in our Classics Bookclub, but ended up mostly resorting to movie versions of Hamlet to complete my quest. Perhaps I would have done better if I had access to Hamlet (No Fear Shakespeare).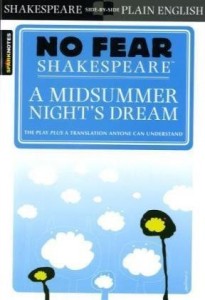 My daughter is a freshman in high school. This fall, she read her first Shakespeare, Romeo and Juliet, and enjoyed it, thanks to a great teacher who helped make it clear. She's about to embark on her second play, and thanks to an offer I just got from SparkNotes, she'll be using A Midsummer Night's Dream (No Fear Shakespeare). Initially, that was the version recommended on the freshman reading list sheet at the beginning of the year, because many teachers have them try to read it on their own (without the scene by scene handholding and interpretation). As it turns out, her teacher is still guiding them through it, but I think that the No Fear approach, with the original play text on one side and a modern translation on the other side, will prove helpful. There is also a list of characters at the front of the play, to help you keep the names straight, and which I will also encourage my daughter to use as a study guide.
The other thing I like about the series is the packaging is sort of cool. Just look at this cover on Julius Caesar (No Fear Shakespeare)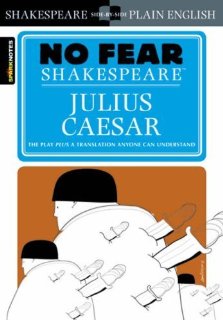 I was offered three copies of No Fear, Shakespeare titles in honor of Shakespeare's birthday, the two listed above plus Macbeth (No Fear Shakespeare), which I've always wanted to read (and also has a cool cover).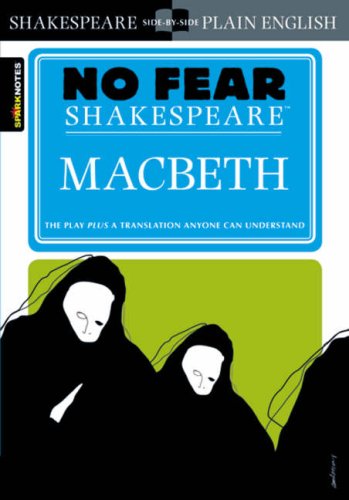 I'll review it here if I read it, but let's celebrate Shakespeare's birthday today by honoring him in the comments. Tell me what your favorite Shakespeare play is, or perhaps your most memorable Shakespeare experience: Have you toured the Globe theater? Seen a live play that brought it to life? Read along with your children?
Go ahead! Jump in and leave a comment, or respond in agreement or with a friendly differing opinion to someone else's comment.