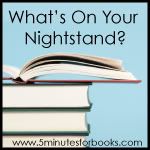 I thought I'd spend a little more time explaining what this monthly meme is all about. It was a part of our concept of the site — allowing booklovers to get together in community to share what they are reading — from the very beginning. We had our first Nightstand in July 2008 and have held it every 4th Tuesday since then!
Basically it's just a place for bloggers to share what's on their nightstand, either what they plan to read in the next month, or what they've moved off their nightstand, having finished them in the previous month. You can include a picture of your bounty if you'd like. You can also tell us where the books came from. Are you a library gal? A book blogger who mostly reads what is sent to you for review? Did you stock up your e-reader at a big sale or with special free titles? Did a friend pass on a favorite book that you just had to read?
Have fun with it, and try to get around to visit others who've linked up as well.
We're glad you're here!
Check out our current giveaways. Subscribe to our feed. Follow us @5M4B on Twitter or on Facebook.