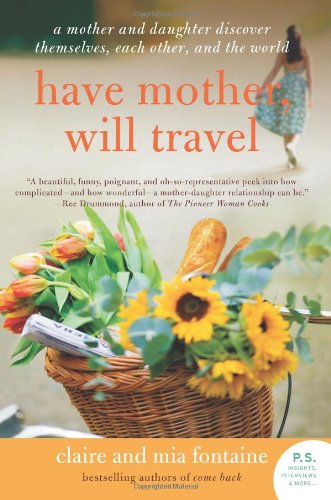 In Have Mother, Will Travel
, mother-daughter duo Claire and Mia Fontaine travel the world, first as part of a Global Scavenger hunt, then by spending the summer together in the south of France. Although it describes their travels, the gist of the book is more about Claire and Mia examining themselves, their relationship to each other as adult daughter and mother, and even in part Claire's relationship with her own mother, a Hungarian Holocaust survivor who is closer to her grand-daughter than her daughter.
The first half of the book concerns their time with the Global Scavenger Hunt, which is a wild ride through Beijing, Kuala Lumpur, Cairo, Nepal, and the Balkans. The second half of the book, which covers their summer in France, also includes gorgeous descriptions of beautiful places.
Read the rest of my review of Have Mother, Will Travel over at 5 Minutes for Mom, and enter to win a copy of your very own (U.S. and Canada).