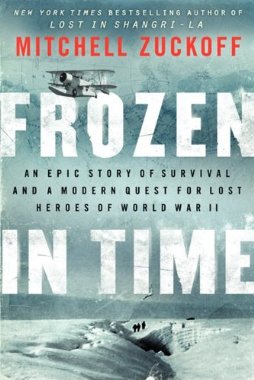 This review was written by Elizabeth's son Elliot, who loves history and loves to read about it.

Frozen in Time
tells the story of a plane crash that led to more crashes, a plane lost to history, and the modern-day search to find it.
During WWII, a cargo plane on a routine flight from England to New York crashed into a glacier on Greenland, leaving 5 men stranded but alive on the ice. They were able to immediately alert others to their plight with their SOS radio, although it had limited battery. So the rescuers were able to locate the general area of the crash, but the radio died and the unpredicatable weather and shifting glacial ice made rescue a near impossibility. Not that they didn't try. A B-17 bomber came to their aid only to crash and leave a second crew stranded. Finally a Coast Guard rescue plane flew in, but they disappeared in a storm and were never found.
For the rest of the winter, the stranded men struggled to survive. The American military mounted effort after effort to save them and several died in the attempt, but the men hung on through a winter in almost unimaginably brutal conditions. It was 5 months before they were rescued, and several died.
It's a fascinating story of the hardships they had to endure and how long it took them to rescue them. They tried to send dog sled teams in but that didn't work because the glacier they were on was moving, so crevasses opened up and the terrain was unnavigable. They landed a plane on ice once, which was crazy, because for one there wasn't really a runway, and the plane kept getting frozen to the ground. This method allowed them to rescue a couple of people, but a second attempt failed and stranded the pilot.
Frozen in Time
alternates between telling the story of the men struggling to survive, and a modern-day search for the lost Coast Guard plane. Author Mitchell Zuckoff heard the story and was intrigued, and then stumbled across a team of people who'd been searching for the plane. Their leader, Lou Sapienza, was motivated by a love of history and a desire to preserve the wreckage from treasure hunters, who could potentially put a claim on it and keep it from the rest of the world, using it only for their own gain. The story was starting to circulate and he knew there was no time to be lost.
It was a really interesting tale, and the author moves fluidly between time periods while holding my attention. You could feel the author's annoyance at the bureaucratic nightmare they had to endure to be able to search for the plane. Zuckoff did a good job of conveying the frustration he felt. I recommend this book. I really enjoyed it. People who like learning about history will like it, but anyone who likes real-life adventure stories will too.
Elliot, 17, is a senior in high school and plans to study history at University next  year.