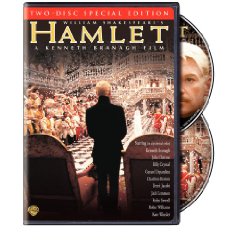 William Shakespeare's Hamlet adapted and directed by Kenneth Branagh is a beautiful movie. The DVD quality was great, and the scenery and costumes — it's just visually stunning (even if the dialogue went over my head as I sat and multitasked). Also, Kenneth Branagh is so compelling as Hamlet. When he spoke, or even when he just entered a scene, I was drawn to the screen.
I watched the introduction to the DVD by Kenneth Branagh and learned that it was filmed in 70 mm, which obviously is why it looks so crisp and gorgeous (although that's about all I can say — it looks different than a typical DVD and I like it).
I watched all four hours of this movie, but when I first put the disc in, and noticed on the menu that it was disc one of two (which Netflix hadn't indicated, or I missed it), and I watched a few moments, but then I decided that I should stick with the more manageable Mel Gibson version.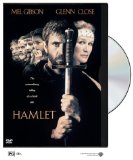 After seeing just a bit of the fantastic cinematography in Kenneth Branagh's Hamlet, the Mel Gibson one just didn't grab me. I was superficially distracted by the big fat braids that Glenn Close and Helena Bonham Carter wore in early scenes. Also it just seemed dark and filmy as compared to the bright and beautiful long version.
That said, after watching all of the long movie, I did watch a bit more of Mel Gibson's version, and I did find it a little easier to follow. Maybe they spoke more slowly or cut more of the extraneous words, but it was a little more comprehensible.
So, after all that, do I "get" Hamlet? Not really. But something about that dramatic 70mm filming really appealed to me, even if it ended up just being background noise as I worked on my computer, so I think that I might be watching it again sometime. I'm not a film buff who notices that sort of thing in general, so since it made such a strong impression on me, I can say it's one of the best movies I've ever seen.

What about you? Have you enjoyed Hamlet on screen?
Managing Editor Jennifer Donovan also blogs at Snapshot about life with her tween daughter and preschool son.