I love the children's story Is That You, Winter? by Stephen Gammell. Stephen Gammell is the both the author and illustrator of this magical tale. His splashes of paint make for a perfect snowy day, especially as my house is covered in 8 inches of snow.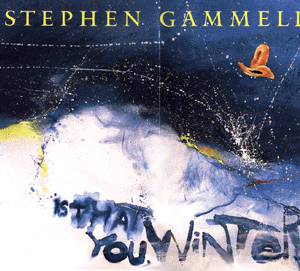 This story is about Old Man Winter and how he gets up in the morning to make it snow. His truck flies off, trailing snow out the back. The whimsical flurry of snow makes me want to ride along.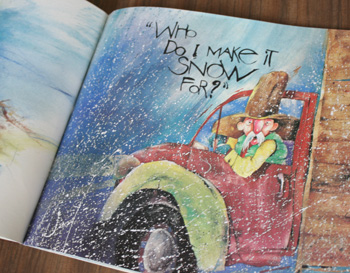 For a fun activity and to enhance the story, my kids and I painted our own snowy scene using an old toothbrush and some paint.
Supplies for Winter Time Snow Paint:
old toothbrush
white craft paint
art paper
paper plate
newspaper & apron – for paint splatter
Optional: glue, paper, scissors, markers – for an object on top of painted snow
Cover your area with newspaper. Pour paint onto the plate. Dab a little paint onto your toothbrush. Then using your finger, flick the toothbrush close to the paper, and you'll see the paint makes fun splashy spray marks onto the paper. (You may want to practice flicking your toothbrush with water first.) After flicking paint some, my kids wanted to scrub the paper with the toothbrush. I think it added to the snow flurry.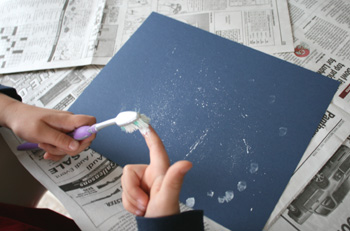 While you let your paint dry, create an object that can be glued in your snow scene. We have a red sled and a silly snowman. Once the paint is dry, glue the object onto your paper. Now you have a fun Wintery Wonderland.
Marie, who loves to read with her kids, is crafting up a storm at her blog, Make and Takes. She is also the editor of Blissful Kids, where you can find more kid-friendly fun.