I recently received three books by three different authors targeted at three different age groups from Toon Books. I've written before about why I love books with comic type formats. I think that they definitely open doors to a reluctant reader with a high picture to text ratio. Even my bookworm daughter turns to books that she has that are in the graphic novel format as fun easy books that she reads again and again. These from Toon Books are very clever, so I'm happy to recommend them.
And lest you think that they are simply fun and fluff, there are lesson plans for each of these titles available on their website.
Jack and the Box by Art Spiegelman is a "first comic for brand-new readers." At 4 ½, Kyle is already beginning to read. I knew he had good sight-word recall, but in the last few weeks, he's really surprised us! So, we've been using lots of easy readers. This one is typical of the genre – fairly large text font, a limited variety of words, and simple text. What's even better about the comic format is with more pictures, it helps the young reader make predictions when they face an unfamiliar word about what the word might be. The colors are muted, and the pictures have a classic feel. We like this book a lot.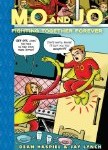 Mo and Jo: Fighting Together Forever by Dean Haspiel and Jay Lynch has bright colors and looks like a classic comic book, and even deals with a classic comic book theme: superheros. Mo and Jo are squabbly siblings who finally figure out how to get the most out of their superpowers (which they inherited when they came into possession of their favorite superhero's costume). They learn that working together gives them the best return. This book is highly relevant to six to ten-year old children (and up if they like the genre): sibling rivalry, super powers, and finishes off with a positive lesson to boot.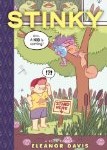 Stinky by Eleanor Davis is a chapter book with a little younger feel (and the lesson plans are for 1st and 2nd grade, as opposed to 3th and 4th for Mo and Jo). This feels a little more like a traditional chapter book to me, still in the comic format with lots of pictures, but with more words. The illustrations here remind me of a classic "Family Circle" type of Sunday morning comic. Stinky lives in a swamp, and doesn't like kids. Daisy (a tomboy) lives in a town and comes into the swamp to build a treehouse. Stinky plans to get rid of her, but plan after plan fails and they end up as friends. The themes of learning to share and dealing with stereotypes come through in the midst of a fun story.
Managing Editor Jennifer Donovan also blogs at Snapshot about life with her tween daughter and preschool son.