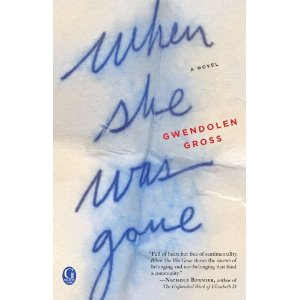 I've read a couple of connected short story collections lately (News from Heaven and When it Happens to You). Though When She Was Gone is not a short story collection, it will appeal to those of you who appreciate short stories, because of the unique way the story is told.
Linsey disappears from her home at 26 Sycamore Street one late summer morning just days before she's supposed to leave for college at Cornell. The people who live in the homes surrounding hers in the New Jersey neighborhood all have a story to tell. One or two saw her leave. One found the note she left after it fluttered away out of the mailbox. One heard her discussions with her boyfriend in the weeks leading up to her disappearance.
The different chapters are each told from the point of view of the neighbor in question, who each is also letting the reader into their own lives and secrets. The diverse points of view make each chapter a different discovery: some are elderly, some are children, some are other mothers, some are classmates. Gross deftly uses these narratives to move Linsey's story forward (Why did she leave? Where did she go? Will she come back?) while also telling the own character's story, and each ties in to the greater backdrop of suburban culture that is a prominent theme.
One of the things I love most about being a book reviewer is "discovering" new authors and following their career. Gwendolen Gross is one of those authors for me. When I was reviewing books early on, I reviewed her first novel The Other Mother, and then excitedly requested her second The Orphan Sister. When She Was Gone showed up on my doorstep as an unsolicited review copy, and once I realized Gross wrote it, it quickly moved to the top of my stack.
I'm happy to say that I have a copy to give to TWO of you (U.S. readers only). Just leave a comment if you'd like to be entered to win. We'll announce the winner in our 3/27 giveaway column.
The giveaway is closed.
The winner of Why Can't I Be You is #14 Jessica T.
Check out our current giveaways. Make sure you don't miss what's coming up: Subscribe to our feed. Follow us @5M4B on Twitter or on Facebook.