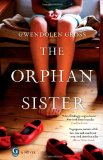 Gwendolen Gross is one of those authors I have tried to keep up with. I read The Other Mother (linked to my review) a while ago, and would periodically check to see if she had another book coming out (I can't believe it's been 4 years, because the book has stuck with me). I was so happy to stumble across the new release The Orphan Sister last month.
The premise is interesting. Clementine is a triplet, the 3rd of sisters Odette and Olivia, who are identical twins. Whereas in some ways, Clementine shares that power of communication and empathy that some multiples are reported to have, in other ways, she's also different, and she feels that. It's something that she enjoys at times, but it does make her feel left out — orphaned, if you will.
This sibling love and closeness and rivalry mimics that in any family. Our siblings and parents often know us best (as we know them), and this allows us to love them in their imperfections, accepting them as they are (though not always happy about it!). Anyone will be able to relate to this theme, especially sisters.
Everything about Clementine's upbringing and her recent past becomes important in the light of some surprising and unsettling news about her family that is uncovered when her father disappears. The theme of knowing and understanding the faults of our family continues here, highlighting her parents' marriage and their own individual shortcomings.
It sounds as if this might be sort of a depressing story, but I think that even those less melancholy than me (most people) wouldn't call it a downer. As I appreciated in The Other Mother, Gross presents emotional and divisive situations with a sort of objective reality that lets the story shine through.
The mystery of why her father has left, where he has gone, and how each sister and their mother are going to deal with it, gives the right amount of dramatic tension that kept me turning page after page.

Jennifer Donovan is a big sister. Even though she and her sister are quite different, she's proud to share roots with her. She blogs at Snapshot about friends and family and other things that keep her rooted.