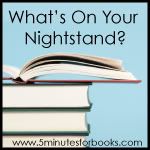 I've had such a lovely summer, and with my kids back to school as of yesterday, it's officially over. I can't say that I'm crushed. Too much of a lovely thing makes it begin to seem ordinary. We are ready for a change.
School is in, but my activities aren't starting up yet, so I'm actually anticipating a week or two of some prime reading time (and I even hope to watch a few movies too — on DVD or in the theater).
What about you? Do you want to share your summer reading successes? Or perhaps you want to let us know your goals for this next month. Either way, we'd love to hear it! Getting this monthly encouragement from other readers, or getting inspired by their lists is a great way to spend the 4th Tuesday of each month.
Link directly to your blog post, or if you don't have a blog let us know about your month in the comment field.
Check out our current giveaways. Subscribe to our feed. Follow us @5M4B on Twitter or on Facebook or YouTube.