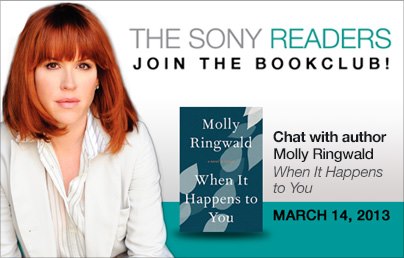 I've really come to appreciate short stories, but by far my favorite way to read them is as a collection that is somehow related, with overlapping themes or characters or place. When it Happens to You by Molly Ringwald is a collection of short stories billed as a "novel in stories" in the subtitle. I totally agree with that assessment.
Each story focuses on a particular character or event and yet they all work together, mostly to tell the story of Greta and Phillip. The first story describes the stress in their lives due to infertility issues as they've been trying to have a sibling for their daughter Charlotte. But when Phillip admits to an affair, all of that striving ceases as they navigate the waters of infidelity.
The short story ends, and yet we find out more in stories that focus on Charlotte's classmate Oliver/Olivia, or the elderly next door neighbor, or Greta's friend's down-on-his-luck actor brother.
Ringwald's writing is descriptive and evocative, and I can recommend this book to those of you who enjoy character-driven fiction and/or short stories.
I have enjoyed the addition of the author chats in the Sony Reader bookclub selections. I did a phone interview with Molly Ringwald after she wrote her first book, which was fun, so I look forward to hearing more from her. She's definitely a creative talent.
It's not too late for you to join in. It was a quick read, and the ebook is available for only $2.99 right now at the Sony Reader store and other outlets as well.
Please join us on Facebook or Twitter (#SonyReader) on Thursday March 14 from 3:30 – 4:30 Eastern time. Find out more (and keep up with the latest) by following Sony Readers Book Club.
You can also checked out the archived chats with Laini Taylor, Barbara Kingsolver, and Michael Connelly.