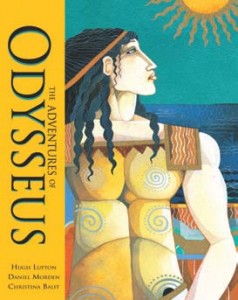 My son and I are working our way through The Story of the World (linked to some thoughts on what we're doing) and as we move through the various ancient cultures, I wanted to find some books that helped to tell the stories of the past. One of my favorite children's book publishers – when it comes to telling children fables and myths – is Barefoot Books. They are wonderful about presenting classics to children in a way which make them approachable and understandable.
One of the books they graciously sent my direction was The Adventures of Odysseus
, which is written and told by Hugh Lupton and Daniel Morden. Using every day spoken English, they retell the story of Odysseus' journey back home after the Trojan War. It opens with a scene on the island of Ithaca, where the queen, Penelope is waiting for the return of her king. We find her surrounded with suitors who wish her to accept the fact that her husband is dead and accept one of them in her place, but she refuses to do so. She believes that Odysseus is still alive. Indeed he is, but he must face a cyclops, Poseidon, the Land of the Dead, and the song of sirens before making his way back to his wife and son.
I previewed this book for my six-year-old son, and I really think this read is a little further out for him. The Adventures of Odysseus
is written for children ages eight and up and I think that's about right. I would have no problems with him reading this book in a few short years. I just didn't think it was something that he should be exposed to right at this moment. I, on the other hand, thoroughly enjoyed the read and found it well-told. The illustrations by Christina Balit compliment the story-telling of Lupton and Morden. Here is a picture of one of the page spreads to give you a feel for the book: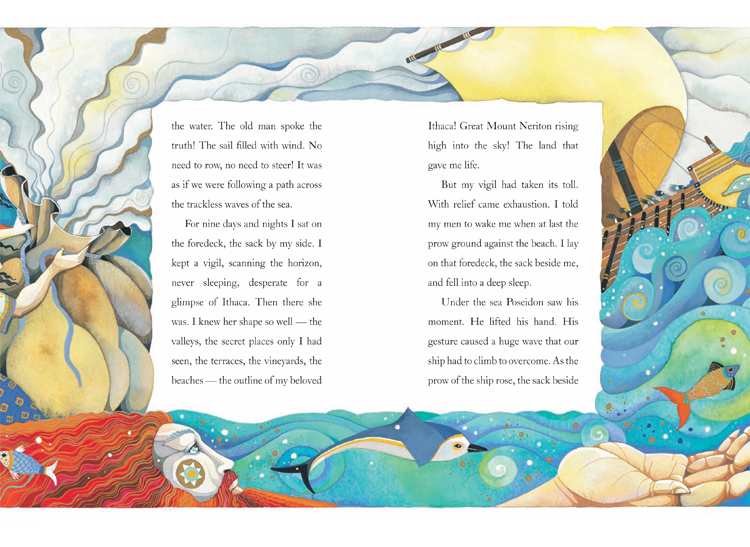 I highly recommend this as an excellent adventure book for boys, specifically, but girls also! It is easy to read without having too many words on each page spread. As you can see from the image above, the spacing and amount of the words on each page is easy to handle for younger readers. The story is complex and exciting enough to capture imaginations. The illustrations are contemporary  but classic enough to cause one to feast their eyes on the pictures as well as the story itself! It's a beautiful book and I, for one, look forward to sharing it with my children.
Other titles offered in this series from Barefoot Books:
Thanks, Barefoot Books, for not only producing this series but for sending the above title my direction in exchange for my honest thoughts.
Carrie loves reading the classics and sharing them with her children. In fact, she's hosting a classics-based book club this year at Reading to Know. Jump in at any time to share timeless books like the above with your children!