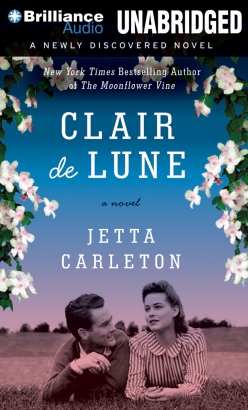 I'm a sucker for a good coming of age novel, which this is billed as. But I'm not always talking Young Adult fare when I classify a book as such, and in fact this novel billed as a coming of age story features a woman in her 20's. Whether you were getting married, starting a family, or launching a career in your early 20's, I wonder if you agree, like I do, that it's such a seminal time in a person's life.
Clair de Lune introduces us to Allen Liles, a young woman who forsakes her dreams of a literary career in New York City for the parent-pleasing stability of a teaching job at a university. She's lacking some advanced credits, but she gets a job as an associate teaching English. In her early twenties, she's not much older than those who she is teaching, and strikes up a friendship with students Toby and George that blurs the line of propriety.
I felt for Allen, who was so out of place among the stuffy academic teachers and the old-maid instructors, yet truly seemed to enjoy what she was doing as a teacher. In Toby and George, she found kindred spirits, someone with whom she could discuss literature, but also play in the park long after dark. I kept waiting for the other shoe to drop, for trouble to come, and it gave the story a sense of dramatic suspense.
Allen definitely grows throughout the novel, figuring out what she truly wants and how she might get there. It's not an easy decision, and the "best" result is never quite clear to the reader, making it feel a lot like life.
Clair de Lune is apparently a lost novel by Jetta Carleton, author of The Moonflower Vine, a classic of its time. I wasn't familiar with that novel, but I do like her style. Reading this "historical fiction" novel (that was really written as a contemporary piece, but never published), placed me firmly in the pre-World War II Midwest.
AUDIOBOOK NOTES: Natalie Ross's rich resonant voice with a touch of sweetness was perfect to tell Allen Lile's story. Hear an excerpt (which is also a very good introduction to the novel) at the Brilliance Audio Site.
Jennifer Donovan feels like she's still growing up while she's watching her daughter grow into a young woman. She blogs at Snapshot.
Other adult women who come of age in the pages: