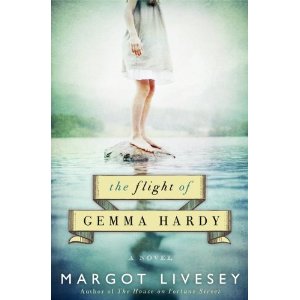 The Flight of Gemma Hardy
is a resetting of Jane Eyre into 1960s Britain, but it's not a slavish retelling. Author Margot Livesey takes the basic plot outline and reimagines it, changing some things but preserving main events and, most importantly, Jane's fearlessness, impudence when necessary, and flair for surviving difficult circumstances with tenacity and a certain style. As such, it is a delightful read—perfect both for rabid Bronte fans and those who have never cracked the cover of the original classic (assuming that if such a person exists she would be interested in literary fiction at all).
Livesay says, "I wanted (my heroine) to come of age just slightly before the rising tide of feminism—the pill, equal pay, discrimination—broke…I am…recasting Jane's journey to fit my own courageous heroine and the possibilities of her time and place." Although the book opens with Gemma living with a cruel aunt and 3 cousins (one boy, two girls), none of whom like her, follows with her being sent to a fantastically horrible boarding school, and ends up with her becoming an au pair to an orphaned wayward girl in a remote setting with a brooding, darkly handsome, rich uncle who is gone most of the time, that is where the similarities end. There are enough events to make this book an homage, but plenty of changes to keep you engaged and guessing. This isn't simply "Reader, I married him," but rather "I leaned forward and kissed him."
So, some of the differences. Gemma was born to an Icelandic father and Scottish mother in Scotland, and orphaned when she was 3. Her kind uncle comes to take her to live with his family. One of the great parts of the book is the filling in of Gemma's backstory and the development of the uncle's character; he is a true father-figure, kind and generous and loving. After his death and the deterioration of whatever relations existed between Gemma and her aunt and cousins, she is sent to live-in as a "working pupil" at a boarding school. Her teacher is one person who is reliably kind, and before she leaves she entrusts to him a box containing all the things she has left from her parents.
As a working-pupil, Gemma and a few others are there to provide free child labour, so although they do attend a few classes, they are constantly put down and not expected to succeed. That Gemma does is due not only to her natural intelligence and tenacity but also to her previous education and the help of a friend.
When she leaves school, she takes a position as an au pair on the Orkneys, a remote group of islands north of Scotland. Nell, her pupil, has been running wild; her uncle works in London and only comes to visit occasionally.
Livesey manages the gothic elements with ease too. My main regret with this story is that there is no madwoman in the attic. How can one have Jane Eyre without Bertha and her streaming black hair and night pyrotechnics? I must admit that Hugh Sinclair's dark secret wasn't quite dark enough for me, although it's enough to send Gemma stumbling away, getting her purse stolen on a bus, sleeping in a church, and ending up with a postman's family in north Wales.
I feel I have told you enough—maybe more than enough. I won't tell you what comes next and where she ends up, if she ever feels she has a family of her own or not. This is a modern retelling, and there are nuances and shadings and secrets that belong more to our own age.
The Flight of Gemma Hardy
is a lovely book and I thoroughly enjoyed it.
Best of all, one of you can enjoy it too! Just leave a comment below to be entered to win a free copy. The winner will be announced on January 25, 2012.
This giveaway is now closed.
Don't miss a thing: Check out our current giveaways. Subscribe to our feed or video reviews on YouTube. Follow us @5M4B on Twitter or on Facebook.
Elizabeth has been a fan of Jane Eyre since she was about 12 and her parents made her read it. She recently introduced Jane to her own daughter, and is happy to report that another fan is born. Learn more at her blog Planet Nomad.