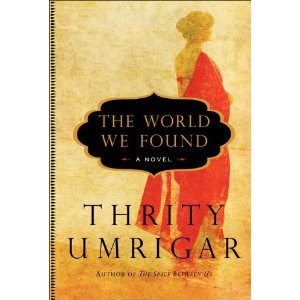 After "discovering" Thrity Umrigar when I read her last book The Weight of Heaven, I was excited to read what she had to offer next with The World We Found. These books are completely different, so if you didn't like the shocking, hopeless tone of The Weight of Heaven (which completely riveted me from the first page to the last), I hope you'll read on.
The World We Found is the story of college friends determined to come together to support one of their own.
Armati has been diagnosed with a terminal brain tumor. Her ex-husband and adult daughter Diane are caring for her, but even though she's miles away from India — in America where she's lived since grad school — what she wants most is to see her old college friends again.
Laleh and Adish are college sweethearts who have settled into a middle class life raising teenagers, a far cry from their activist days back in college. She can't wait to see Armati and spearheads the effort to get the other two there.
Kavita is a busy architect and her mother's primary caretaker. She and Laleh have stayed close, but there are things she's never shared with her or Armati, specifically about her love life, and wonders if it's time to come clean to all of them, and especially Armati, about what she meant to her all those years ago.
Nishta married a Muslim boy (one of their gang) and was disowned by her family. She and Iqbal distanced themselves from their friends when his newfound religious practice put them at odds with each other. Ka and Laleh seek her out, but will she leave her familiar life behind to come to America with them?
I enjoyed this novel, a look at friendship and how we grow and change (and remain the same!) as we grow older. Though the entire story is told under the shadow of Armati's pending death, as Armati comes to terms with her mortality and her life, so did I.
Honestly, I wish that Umrigar had taken the novel further — a few more months into the future and/or exploring more of their times together in the past — not just because I enjoy her writing, but because I think that it would have made a stronger novel.

I am happy to be able to give away a copy to one of you (U.S. addresses only). Please leave a comment if you'd like to enter to win. We'll announce the winner in our giveaway column on January 11.
Don't miss a thing: Check out our current giveaways. Subscribe to our feed or video reviews on YouTube. Follow us @5M4B on Twitter or on Facebook.
Jennifer Donovan is so thankful for high school, college, and other friends who have enriched her life. She blogs at Snapshot.